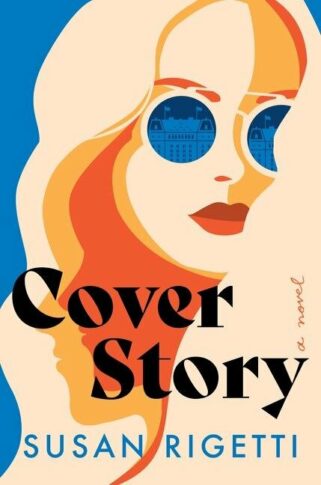 Cover Story
By Susan Rigetti Source
Library
Published by
William Morrow & Company
on April 5, 2022
Rating:

After a rough year at NYU, aspiring writer Lora Ricci is thrilled to land a summer internship at ELLE magazine where she meets Cat Wolff, contributing editor and enigmatic daughter of a clean-energy mogul. Cat takes Lora under her wing, soliciting her help with side projects and encouraging her writing.

As a friendship emerges between the two women, Lora opens up to Cat about her desperate struggles and lost scholarship. Cat's solution: Drop out of NYU and become her ghostwriter. Lora agrees and, when the internship ends, she moves into Cat's suite at the opulent Plaza Hotel. Writing during the day and accompanying Cat to extravagant parties at night, Lora's life quickly shifts from looming nightmare to dream-come-true. But as Lora is drawn into Cat's glamorous lifestyle, Cat's perfect exterior cracks, exposing an illicit, shady world.

A whip-smart and delightfully inventive writer, Susan Rigetti brilliantly pieces together a perceptive, humorous caper full of sharp observations about scam culture. Composed of diary entries, emails, FBI correspondence, and more, Cover Story is a fresh, fun, and wholly original novel that takes readers deep into the codependency and deceit found in a relationship built on power imbalance and lies.
This was a really fun, fast-paced read and as frustrating as Lora was sometimes, I couldn't stop reading. I needed to see what was going to happen next.
In the moment, I definitely enjoyed this, but the more I think about it now that I've finished, the less I'm sure about. Spoilers from here on! View Spoiler »It makes use of a hugely unreliable narrator, which isn't revealed until the end (not to mention the implausibility of Cat disguising herself enough to fool the FBI). So in light of the big reveal at the end, I'm left wondering what was even 'real'. The diary was fake, and Lora (as the reader 'knew' her) was Cat's construct, so how much of anything was real (within the world of the story)? And because everything is a fabrication of Cat's, there's no real insight into any characters I spent time with as a reader, because the journal entries are made up. « Hide Spoiler
So in the moment and immediate aftermath, this was a four-star read for me. It was intriguing and I couldn't put it down. But I admit that I like the book less the more I think about it, now that I've finished!