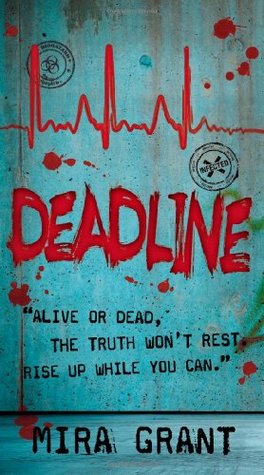 Deadline
By Mira Grant Series:
Newsflesh #2
Source
Purchased
Published by
Orbit
on June 1, 2011
Rating:

Cover image and summary from Goodreads:

Shaun Mason is a man without a mission. Not even running the news organization he built with his sister has the same urgency as it used to. Playing with dead things just doesn't seem as fun when you've lost as much as he has.

But when a CDC researcher fakes her own death and appears on his doorstep with a ravenous pack of zombies in tow, Shaun has a newfound interest in life. Because she brings news-he may have put down the monster who attacked them, but the conspiracy is far from dead.

Now, Shaun hits the road to find what truth can be found at the end of a shotgun.
Slight spoilers for Feed!
This is the sequel to Feed, which I read last year and loved. I feel like I've said it a zillion times, but I love love love reading zombie stories. I was excited to read this sequel and see where the story went.
What I especially love about this book, and series, is that it feels as realistic as a zombie story set in the near future can probably be. It's also smart. The medical aspect of the zombie outbreak, the technology, the ways the world has changed since the zombie apocalypse: it all feels so well thought out and connected. There is very solid, in-depth world-building here.
To be honest, sometimes it felt like some of the story was over my head, particularly when it comes to the medical stuff, but I appreciate that the story is intelligent and treats the reader as intelligent too.
I love these characters. I was a bit devastated by events at the end of Feed, but I enjoyed the way this story was told from another character's perspective. My favourite characters are probably Shaun and Mahir, but all of the members of the team were near and dear to my heart, and I feared for everyone's lives as I read further into the book.
This story took some great twists and turns and had some exciting moments. I could picture everything as I read, from the abandoned towns to the shambling zombies to the tense walk through the sterile white CDC hallways.
And oh my gosh, that ending!! I was so glad to have the third and final book, Blackout, already on my bookshelf because I had to know what would happen next immediately!
If you like zombie-apocalypse stories, this one is smart, exciting, fun, and full of awesome characters, do yourself a favour and check out this series!