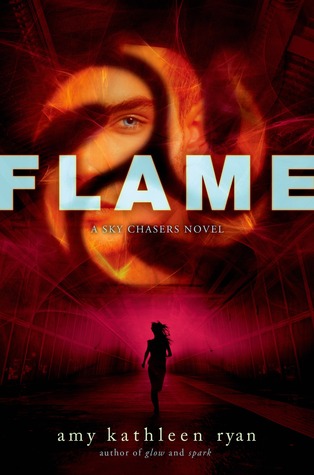 Flame
By Amy Kathleen Ryan Series:
Sky Chasers #3
Source
Received from the publisher
Published by
MacMillan
on January 7, 2014
Received from the publisher in exchange for an honest review. This does not affect my opinion of the book or the content of my review.
Rating:

Cover image and summary from Goodreads:

In the thrilling conclusion to the Sky Chasers series Waverly, Kieran, and Seth struggle to survive on-board the New Horizon—and take down their enemies before it's too late.

Waverly and the other members of the Empyrean have scattered, and their home ship has been destroyed. Their mission to rescue their parents didn't go as planned, and now they're at an even greater disadvantage: trapped with their enemies on the New Horizon, trying to find a way to survive. Kieran has been pulled under Anne Mather's wing, but is she really trying to make peace, or just using Kieran to build her own power? Meanwhile, Waverly is taken in by a mysterious old man who wants to help her bring Anne Mather down—but the more Waverly cooperates with him, the more dangerous her position is, and the more at odds with Kieran she becomes.

Seth's situation is even worse. After setting out from the Empyrean on his own, with only a vague strategy to guide him, he is a fugitive aboard the New Horizon. He's doing what he can to challenge the power of Anne Mather, but he's badly hurt, and getting sicker.

Will Seth ever see Waverly again? Will his health hold out long enough to help her topple their enemies? And will Waverly find a way to unite with her friends before they all fall? Nothing is sure and every moment is a risk in this explosive finale of the Sky Chasers series.
You can read my reviews of the previous books, Glow and Spark. Spoiler alert!
Ending a series is difficult. That has been discussed an awful lot lately, especially around the release of Veronica Roth's Allegiant, and I understand the apprehension that we readers feel when venturing into the last book in a series, wondering how – or even if – things will be resolved and what will happen to the characters that we care about and whose journeys we've followed over the course of the series.
I really enjoyed Glow and Spark. They both came out a while ago and I've read so many books since then that I had to go back and familiarize myself with the characters and story before I started this. Once I remembered how dire the situation was at the end of Spark, I got super excited to pick this up and find out what happened next!
Unfortunately I didn't love this book the way I loved its predecessors. Kieran, Waverly, and Seth were all in different places at the start of the book, and I kept waiting for them to find each other and spend some time together, which didn't totally happen (although that was mostly due to Anne Mather's influence).
For some reason, I felt that the three different storylines – Seth's, Waverly's, and Kieran's – were a bit tough to follow. Maybe there was just too much going on, but I was always feeling like I was a bit confused.
I liked the action in this book, and there were some characters that I was really happy to see again, as their fates were unknown at the end of Spark (I don't want to say their names for spoiler-y reasons).
What I enjoyed the most about this book was that the characters were still grappling with ideas of good and bad, forgiveness, and seeing that things aren't always black and white, but shades of grey.
I also liked the ending. It was happy, hopeful, but definitely not what I was expecting, which was nice. It fit with the rest of the series, and like I said above, it is not easy to end a series, but I think the author did a great job of tying things together in the end.
Overall, this was a good end to a pretty great series!