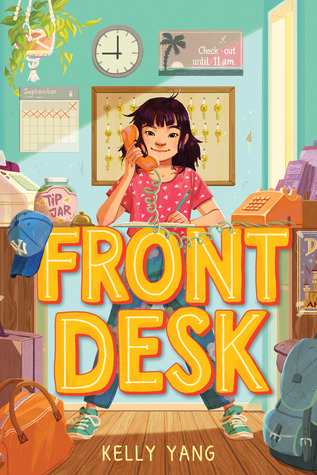 Front Desk
Series:
Front Desk #1
Source
Library
Published by
Arthur A. Levine Books
on May 29, 2018
Rating:

Mia Tang has a lot of secrets.

Number 1: She lives in a motel, not a big house. Every day, while her immigrant parents clean the rooms, ten-year-old Mia manages the front desk of the Calivista Motel and tends to its guests.

Number 2: Her parents hide immigrants. And if the mean motel owner, Mr. Yao, finds out they've been letting them stay in the empty rooms for free, the Tangs will be doomed.

Number 3: She wants to be a writer. But how can she when her mom thinks she should stick to math because English is not her first language?

It will take all of Mia's courage, kindness, and hard work to get through this year. Will she be able to hold on to her job, help the immigrants and guests, escape Mr. Yao, and go for her dreams?
This middle-grade story was such a delightful read! I loved reading about the motel and the people Mia met there, and I loved her friendship with Lupe.
There are some tough subjects that Mia and her parents face including racism, poverty, discrimination, and immigration, alongside Mia dealing with the challenge of being the new kid in class. There were moments of sadness and heartbreak, but there were also moments of joy and happiness, and I loved Mia's bravery and optimism in the face of so many challenges. The story took on extra poignancy when I read the author's note that said some of the events in the book were based on her real life experiences.
I loved the writing and I loved Mia! I definitely want to read the second book in the series, Three Keys, and see what Mia gets up to next!