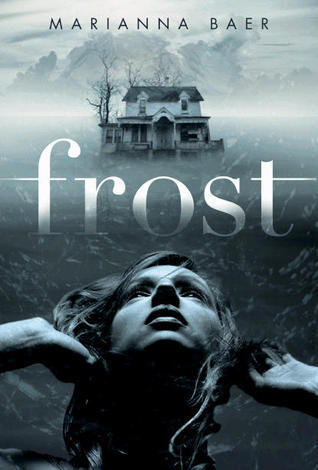 Frost
By Marianna Baer Source
Library
Published by
Balzer & Bray
on September 13, 2011
Rating:

Leena Thomas's senior year at boarding school starts with a cruel shock: Frost House, the cozy Victorian dorm where she and her best friends live, has been assigned an unexpected roommate—eccentric Celeste Lazar.

As classes get under way, strange happenings begin to bedevil Frost House: frames falling off walls, doors locking themselves, furniture toppling over. Celeste blames the housemates, convinced they want to scare her into leaving. And although Leena strives to be the peacekeeper, soon the eerie happenings in the dorm, an intense romance between Leena and Celeste's brother, David, and the reawakening of childhood fears all push Leena to take increasingly desperate measures to feel safe. But does the threat lie with her new roommate, within Leena's own mind…or in Frost House itself?
This book has been on my TBR for some time.
This book was more of an atmospheric, suspenseful story than full out horror or fright, but it did give me chills. From the time she discovers Frost House, the old Victorian house on campus that normally serves as a residence for senior boys, Leena feels drawn to it. Through her close relationship with the Dean, Leena secures the building as a residence for herself and her two best friends Viv and Abby. A fourth friend is scheduled to move in during the second semester, and so Leena looks forward to having her own room on the main floor, with the other girls rooming upstairs.
Suddenly, a girl named Celeste is assigned to share Leena's room for the semester. Celeste is the free-spirited artistic type, and it's clear from the reactions of Leena, Abby, and Viv that they don't like her much, and they think she's weird and strange. Her brother David, though, seems nice and Leena develops a crush on him. Celeste broke her leg over the summer and has to wear a cast, so David is around a lot to help her move in.
Strange things begin to happen – Celeste's pictures fall off the walls, she feels like she's being constantly watched, her things are strewn around the room even though the bedroom door had been locked – and while Celeste begins to act strangely and insist that something isn't right, Leena starts wondering if it's all in Celeste's head, or a cry for attention. While Celeste complains about the smell in her closet, Leena secretly feels comforted while she's in there, and often goes in the closet to nap or work through her problems.
Leena, formerly a good student and leader of a peer mentor program, begins to slip. A student doesn't take Leena's advice well and a complaint is made; her efforts to keep the peace between Celeste and her friends in the house lead to them thinking she's ditched them for Celeste; and she shows up late to a college interview. To complicate things, her crush on David seems to be reciprocated, but he asks and talks about Celeste an awful lot, and Leena finds herself wondering about his relationship with his sister. Is he a concerned brother or is there something more going on?
There are hints of other troubles in Leena's home life – a rocky relationship with her divorced parents, a suicide attempt when she was younger that she now says she didn't really mean – but the focus is on her life at school, in Frost House, and what that is doing to the other relationships in her life. I mainly felt really bad for Celeste, though, whose physical and mental condition seemed to erode as the semester went on.
In the end, there was a partial explanation for the strange things that happened in the house, but it was the kind of explanation that didn't outright answer everything. I know what I think happened, but someone else might see things differently.
I didn't love everything in this book – I would have liked to read more about Leena's relationship with her parents, for example, and I tend to prefer more outright supernatural/horror elements to stories like this (e.g. show me the ghosts!) –  but it was well-written and was one of those stories where I wasn't always sure if what was going on was in the main character's head or not, which I enjoy. If you like a more atmospheric tale where things are left to your imagination, this might be right up your alley.