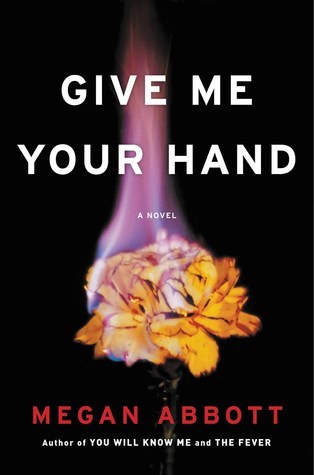 Give Me Your Hand
By Megan Abbott Source
Purchased
Published by
Little
,
Brown and Company
on July 17, 2018
Rating:

Kit Owens harbored only modest ambitions for herself when the mysterious Diane Fleming appeared in her high school chemistry class. But Diane's academic brilliance lit a fire in Kit, and the two developed an unlikely friendship. Until Diane shared a secret that changed everything between them.

More than a decade later, Kit thinks she's put Diane behind her forever and she's begun to fulfill the scientific dreams Diane awakened in her. But the past comes roaring back when she discovers that Diane is her competition for a position both women covet, taking part in groundbreaking new research led by their idol. Soon enough, the two former friends find themselves locked in a dangerous game of cat-and-mouse that threatens to destroy them both.
Oh wow. I loved this book so much. I've read two others by Megan Abbott (The End of Everything and You Will Know Me). Those were both good, and I really liked You Will Know Me, but I was completely blown away by Give Me Your Hand. It's in the running for best book I've read of 2018 so far (along with White Tears).
I don't really know where to start with what I loved about this book. It was so well-written, and burrowed its way into my brain. When I had to put it down, I couldn't stop thinking about it, about Kit and Diane.
I was enthralled by Kit and Diane's story and how they were intertwined, as friends and academic rivals, that supportive and competitive way that friendships sometimes are. The story weaves together 'then' and 'now' and reveals Kit and Diane's history slowly, building up to something that connects them once again. It was fascinating.
The PMDD element of the story and Kit's experience in the lab as a woman were so interesting (PMDD is a a really severe form of PMS). I felt like the book was so much about female experience, I loved it. I've read some YA novels this year that gave me the same feeling (Courtney Summers' Sadie, Claire Legrand's Sawkill Girls, Kara Thomas' Little Monsters) and I want more.
Give Me Your Hand was sharp, engaging, complex, and so well written. I almost envy someone about to read it for the first time! This is a mystery, a psychological thriller, but it is, as others have said, a slow burn. It builds and builds and builds. Highly recommended.