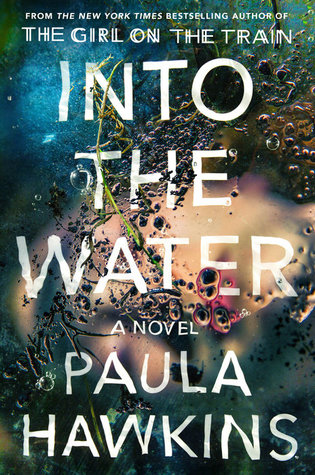 Into the Water
By Paula Hawkins Source
Received from the publisher
Published by
Riverhead Books
on May 2, 2017
Received from the publisher in exchange for an honest review. This does not affect my opinion of the book or the content of my review.
Rating:

Cover image and synopsis from Goodreads:

A single mother turns up dead at the bottom of the river that runs through town. Earlier in the summer, a vulnerable teenage girl met the same fate. They are not the first women lost to these dark waters, but their deaths disturb the river and its history, dredging up secrets long submerged.

Left behind is a lonely fifteen-year-old girl. Parentless and friendless, she now finds herself in the care of her mother's sister, a fearful stranger who has been dragged back to the place she deliberately ran from—a place to which she vowed she'd never return.

With the same propulsive writing and acute understanding of human instincts that captivated millions of readers around the world in her explosive debut thriller, The Girl on the Train, Paula Hawkins delivers an urgent, twisting, deeply satisfying read that hinges on the deceptiveness of emotion and memory, as well as the devastating ways that the past can reach a long arm into the present.

Beware a calm surface—you never know what lies beneath.
I really enjoyed The Girl on the Train, so I was definitely looking forward to reading Paula Hawkins' follow up.
I wanted to read this book as soon as possible, before I read reviews or had the story spoiled for me in any way. The hard cover I received was a big book, but once I got into it, I read the book in a couple of days.
At first I was confused by all of the characters and time jumps. I was sure that it would come together, but initially I found myself very confused about who everyone was and how they were all connected.
I really liked the mood and atmosphere of the story. The setting was great for a mystery. But I don't know if it's because there were so many characters or what, but I didn't fee like I really connected to any of the characters, or that I really got to know any of them. I wasn't super invested in the outcome of any one individual's storyline but I was curious to see, plot-wise, what would happen.
Also, I thought the 'Drowning Pool' and stories like Libby's were going to factor into the story more than they did. I kind of felt like nothing much came of it. It was interesting background information for the story and contributed to the mood and tension, I suppose.
As for the mystery itself, I have very spoiler-y feelings about it. I won't go into detail here, but I didn't find it very satisfying.
Overall, I did find Into the Water to be an entertaining, fun read – perhaps one that tried to be a little too twisty for its own good in the end. I didn't love the book, but I liked it, and will be interested to read the next book from Paula Hawkins.