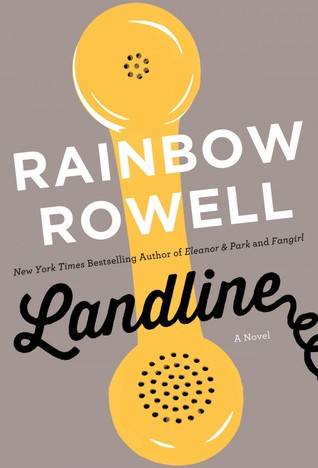 Landline
By Rainbow Rowell Source
Received from the publisher
Published by
St. Martin's Press
on July 3, 2014
Received from the publisher in exchange for an honest review. This does not affect my opinion of the book or the content of my review.
Rating:

Cover image and summary from Goodreads:

Georgie McCool knows her marriage is in trouble. That it's been in trouble for a long time. She still loves her husband, Neal, and Neal still loves her, deeply — but that almost seems besides the point now.

Maybe that was always besides the point.

Two days before they're supposed to visit Neal's family in Omaha for Christmas, Georgie tells Neal that she can't go. She's a TV writer, and something's come up on her show; she has to stay in Los Angeles. She knows that Neal will be upset with her — Neal is always a little upset with Georgie — but she doesn't expect to him to pack up the kids and go home without her.

When her husband and the kids leave for the airport, Georgie wonders if she's finally done it. If she's ruined everything.

That night, Georgie discovers a way to communicate with Neal in the past. It's not time travel, not exactly, but she feels like she's been given an opportunity to fix her marriage before it starts . . .

Is that what she's supposed to do?

Or would Georgie and Neal be better off if their marriage never happened?
I was really excited to read this because I loved both Eleanor and Park and Fangirl by Rainbow Rowell. I knew this was adult fiction with what sounded like a touch of magical realism, and was definitely intrigued. Happily, there were many things that I loved about this book.
First, I appreciated the honest portrayal of Neil and Georgie's marriage: their arguments were not big blow ups, more like quieter disagreements, resentments even, that would seem to hang over everything. They're in love – but Georgie is also very aware of her selfishness in their relationship.
I liked that the characters, while at times frustrating, were real and relatable. As Georgie reminisces and reflects on her past with Neil, I thought that Neil was a bit of a grinch: he came across as anti-social and stand-offish (and coming from someone who can be a bit anti-social – me – I feel like that's saying a lot!). Georgie was, as I mentioned, selfish at times, but I saw how much she had worked hard in her career to get what she wants and I thought she was torn between wanting the career she'd been dreaming of for so long, and wanting her family and relationship intact. Despite the strain it was all taking on Neil and Georgie, I was definitely hoping that they would work out whatever was going on between them, because I believed that they truly loved each other.
I also loved the way Georgie was able to communicate with past Neil! I think magical realism can be tricky, but I really loved the way it was used in Landline. I had a lot of fun thinking about the time-travely-ness of it all!
The writing was, as I expected, pretty great. Now that I've read three of her books, I expect more great snappy dialogue, mixed in with humour and poignancy from her future works!
This is the story of a marriage, but it's only (mostly) told via Georgie. While I really enjoyed the book, I found myself wishing I could have had some of Neil's perspective. That said, the book gave me a lot to think about not only regarding my own marriage, but other relationships in my life, with friends and family, especially the importance of appreciating people and letting them know that they're appreciated and loved.
This is definitely a recommended read!