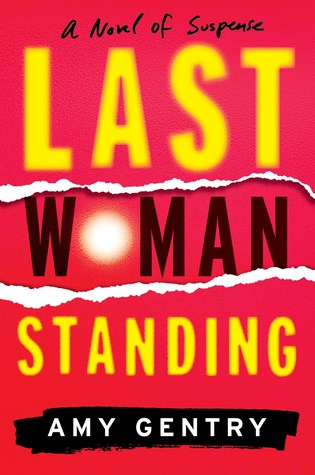 Last Woman Standing
By Amy Gentry Source
Library
Published by
Houghton Mifflin Harcourt
on January 15, 2019
Rating:

Dana Diaz is an aspiring stand‑up comedian—a woman in a man's world. When she meets a tough computer programmer named Amanda Dorn, the two bond over their struggles in boys' club professions. Dana confides that she's recently been harassed and assaulted while in L.A., and Amanda comes up with a plan: they should go after each other's assailants, Strangers on a Train–style. But Dana finds that revenge, however sweet, draws her into a more complicated series of betrayals. Soon her distrust turns to paranoia, encompassing strangers, friends—and even herself. At what cost will she get her vengeance? Who will end up getting hurt? And when it's all over, will there be anyone left to trust?
I wanted to love this book! I was so interested in reading it based on the premise, and I was pulled in by the first couple of chapters.
The "Strangers on a Train"-style plot interested me, as did the feeling it it was taking on harassment and assault in the MeToo era.
Yet for all of the tantalizing set-up, this book mostly missed the mark for me. I was disappointed at times by its predictability, by View Spoiler » its allowance or suggestion of the possibility that Amanda was a "crazy bitch" falsely accusing someone to ruin a man's reputation « Hide Spoiler, and with the ending.
Last Man Standing was a quick, at times gripping read read, but I didn't love it, and it was too predictable for me, even with its attempts to be twisty.