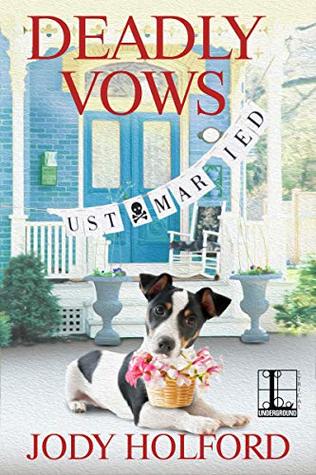 Deadly Vows
By Jody Holford Series:
A Britton Bay Mystery #2
Source
Received from the publisher
Published by
Lyrical Underground
on April 9, 2019
Received from the publisher in exchange for an honest review. This does not affect my opinion of the book or the content of my review.
Rating:

Britton Bay is buzzing with preparations for a wedding at the bed and breakfast where Molly rents a small carriage home. Molly is even helping out and plans to interview the rising star caterer—until the woman is found dead. And then the bride-to-be goes missing. To make matters worse, the venue is owned by Molly's new boyfriend's mother—and Molly was among the last people to see the victim alive. All of which makes solving the crime her top priority . . .

With the nuptials indefinitely on hold, Molly will have to sift through a sticky mix of suspects, including a rival caterer with a short fuse, a groom with an illicit secret, and a wedding party riddled with personal drama. And if she doesn't discover the truth soon, Molly might be her own front-page news . . .
I was so excited to receive an advance copy of Deadly Vows! I really enjoyed the first book in this series, Deadly News, and couldn't wait to see what Molly and her friends were up to now!

Molly is still settling in to her new life in Britton Bay, and her new job as editor of the local newspaper. She has a new boyfriend, Sam, whose mother owns the bed and breakfast that Molly's carriage house is set on. The bed and breakfast has been taken over by a flurry of activity due to a local wedding, complete with a high-maintenance chef. When the difficult chef is found dead before the wedding has arrived, Molly must investigate to find out what happened, and to identify the killer!!!

I really liked this book — I was happy that the murder didn't take place too soon after the start of the book because I was just happy to read about Molly and her life. And I was really excited to see that there was some continuity in this book — there is still some tension between Molly and the girlfriend of someone that Molly accused of being a killer in the last book. I'll admit that I've gotten a little tired of reading books where the main character just accuses half the town of being a murderer and then there are no consequences for it in future books. So I was happy to see that Molly had to make some amends for her previous actions. It was refreshing.

I also liked the mystery of the murder itself — the police knew that the victim had an allergic reaction, but they didn't know what it was from or how she ingested it. I wish more time had been spent on that part of the mystery, because it was really cool.

The only downside to the book is that the ending moved a bit too fast. The killer was revealed really suddenly and then it felt like lots of things happened at once, and the book was over. I wish that the author had been able to spread it out over another 50 pages or so. It just felt a bit too quick. I guess that means I didn't want to stop reading the book!

This is a very sweet series. I'd recommend it for anyone who was new to the cozy mystery genre, is a dog lover, or just wanted a light-hearted book to read. I look forward to the next in the series!