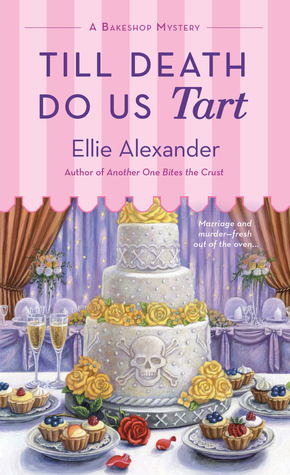 Till Death Do Us Tart
By Ellie Alexander Series:
A Bakeshop Mystery #8
Source
Received from the publisher
Published by
St. Martin's Press
on June 26, 2018
Received from the publisher in exchange for an honest review. This does not affect my opinion of the book or the content of my review.
Rating:

Jules Capshaw has too much on her plate-and she's feeling the pinch: the whole town of Ashland, Oregon, is in on the surprise Elizabethan-themed wedding she's planning for her mom and soon-to-be stepdad. But is her secret scheme half-baked? She's hiding racks overflowing with sweet treats while Torte is topsy-turvy with a major remodel and the return of Jules's estranged husband, Carlos. And until now, Jules had no clue about the bitter family feud that has her friend Lance frazzled and suspicious. But when a party crasher takes someone out with a serving of poisoned wine and Jules discovers the deadly cup was intended for her, it's time to turn the tables on a killer.
I was very excited to receive an advance copy of the latest Bakeshop Mystery. While I struggled to read the previous book due to some slight sleep deprivation, I was happy to take another shot at reading about my favourite bakery in Ashland.
This book centres around the wedding of Jules' mother and the local police chief, known as the Professor. Their romance has been building nicely throughout the series, and it was nice to read about Jules' mother being so happy.
What really excited me about this book was the background we got into Lance, the town's theatre director. While we learned a bit more about him in the previous book, when he was accused of murder, in this book we got to learn a lot more about his background — primarily about his tenuous history with his family and his accusation that his father is the victim of murder. Lance has always been a fun and exciting secondary character, and I have really enjoyed what a big role he has taken in the past few books in this series. I just think that he and Jules are so much fun together and I love how Lance encourages Jules to let down her hair and break some rules (or laws).
Along with the expansion of Torte into their new basement, we found out at the end of the last book that Jules' estranged husband, Carlos, had recently purchased shares in a local vineyard. The group decides to host the wedding at this vineyard, but also spend quite a bit of time discussing how they want to proceed with the business. I think it sounds like such a romantic setting, and I hope that the next book in the series really focuses on this setting.
I will admit that I have not always been a fan of Jules' estranged husband, Carlos. When I first started reading the series I just wasn't interested in him and thought the debate over whether they ought to reconcile was distracting from the main plot of the book. However, I seem to have softened my stance quite a bit as I found his visit with his son to be really interesting and just kept hoping that they would get back together and that he would run the vineyard. I may want to reread the series now to see if I perceive their relationship differently.
The murder mystery was a good one — I liked how multiple plot lines seemed to overlap, which added an extra layer of depth and intrusive.
This was a great book that added a lot of depth to some secondary characters, and finally turned me into a fan of the romantic storyline.