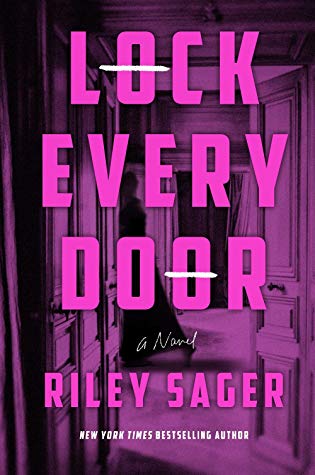 Lock Every Door
By Riley Sager Source
Purchased
Published by
Dutton
on July 2, 2019
Rating:

No visitors. No nights spent away from the apartment. No disturbing the other residents, all of whom are rich or famous or both. These are the only rules for Jules Larsen's new job as an apartment sitter at the Bartholomew, one of Manhattan's most high-profile and mysterious buildings. Recently heartbroken and just plain broke, Jules is taken in by the splendor of her surroundings and accepts the terms, ready to leave her past life behind.

As she gets to know the residents and staff of the Bartholomew, Jules finds herself drawn to fellow apartment sitter Ingrid, who comfortingly, disturbingly reminds her of the sister she lost eight years ago. When Ingrid confides that the Bartholomew is not what it seems and the dark history hidden beneath its gleaming facade is starting to frighten her, Jules brushes it off as a harmless ghost story . . . until the next day, when Ingrid disappears.

Searching for the truth about Ingrid's disappearance, Jules digs deeper into the Bartholomew's dark past and into the secrets kept within its walls. Her discovery that Ingrid is not the first apartment sitter to go missing at the Bartholomew pits Jules against the clock as she races to unmask a killer, expose the building's hidden past, and escape the Bartholomew before her temporary status becomes permanent.
I really enjoyed Riley Sager's first book, Final Girls, and while I didn't love it, I enjoyed the follow-up, The Last Time I Lied. So I was definitely eager to read Lock Every Door as soon as possible.
I loved this premise, and I could definitely understand why Jules would take the apartment sitter job, despite the strangeness of some of the rules.
Of course, things that seem too good to be true usually are, and Jules' luxury apartment sitter job is no exception! It's not long before things get weird, and then downright dangerous.
I got a fun Rosemary's Baby vibe from this, and it was a page-turner, but overall I found this fairly predictable. Jules' investigation led her down some predictable paths and she trusted the wrong people, but I still enjoyed reading about it all (even if I was yelling at her in my head not to do the things she was doing).
I don't think this is super spoiler-y, but I'll hide it behind a spoiler alert just to be on the safe side: View Spoiler » I liked that the story tried to shine a light on the economic struggles Jules and other characters faced, and the depiction of the wealthy residents of The Bartholomew as villains (even if I did find the big bad's rant at the end and revelation of the long history of what was going on at The Bartholmew to be a bit over the top – but then again, it definitely cemented him as a monster in my mind). « Hide Spoiler
For my taste, Lock Every Door ranks right in between Final Girls and The Last Time I Lied. It pulled me in right away and had a fun premise, but its predictability meant I didn't find it all that suspenseful.
I'm definitely looking forward to more from Riley Sager!