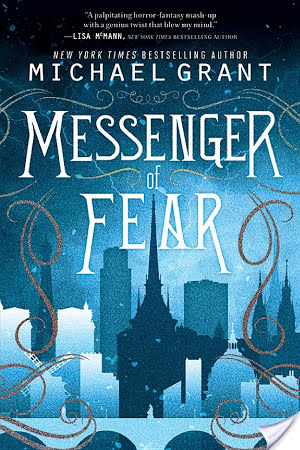 Messenger of Fear
By Michael Grant Series:
Messenger of Fear #1
Source
Received from the publisher via Edelweiss
Published by
Katherine Tegen Books
on September 23, 2014
Received from the publisher via Edelweiss in exchange for an honest review. This does not affect my opinion of the book or the content of my review.
Rating:

Cover image and summary from Goodreads:

I remembered my name – Mara. But, standing in that ghostly place, faced with the solemn young man in the black coat with silver skulls for buttons, I could recall nothing else about myself.

And then the games began.

The Messenger sees the darkness in young hearts, and the damage it inflicts upon the world. If they go unpunished, he offers the wicked a game. Win, and they can go free. Lose, and they will live out their greatest fear.

But what does any of this have to do with Mara? She is about to find out . . .
Messenger of Fear was a book with an intriguing premise, and as I read and enjoyed Gone, also by Michael Grant, I was looking forward to reading this.
The book was a very quick read. I was intrigued by the characters Grant introduces the reader to: Messenger, Daniel, Oriax, and I wanted to learn more about them. And once I learned more about Mara, the main character, I sympathized and became curious to see how the rest of her story plays out.
The message of the book (or what I thought the message was) was very interesting. It's about the choices people make to do good or to do bad, justice, and redemption. I liked the way Messenger of Fear addressed these concepts through Mara's discussions with Messenger and through her encounters with the people she and Messenger meet throughout the story.
While I was interested in these characters, I lacked any emotional attachment to them. I read more for my interest in the plot than in the characters.
This is the first book in a new series and it absolutely felt like this book was just providing the initial set up. It introduced the characters and Mara's situation, but it left me wanting more. I'll be reading the next book, because I'm so curious about what happens next!