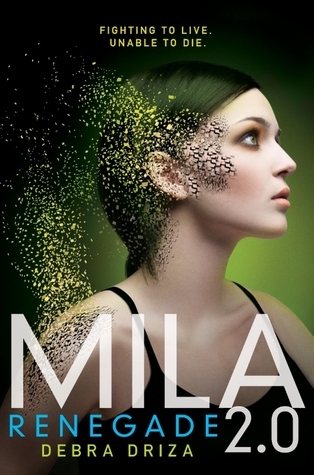 Renegade
By Debra Driza Series:
Mila 2.0 #2
Source
Library
Published by
Katherine Tegen Books
on May 13, 2014
Rating:

Cover image and summary from Goodreads:

There is no one left for Mila to trust. Except for a boy she barely knows.

But Hunter has no idea who—and what—Mila really is. She can't bear to reveal her secret, even though he's unwittingly joined her search for Richard Grady, a man who may know more details of Mila's complicated past.

Yet the road to the truth is more dangerous than ever. With General Holland and the Vita Obscura scouring the earth for her whereabouts, Mila must rely on her newfound android abilities to protect herself and Hunter from imminent harm. Still, embracing her identity as a machine leads her to question the state of her humanity—as well as Hunter's real motives.

Perfect for fans of I Am Number Four and Divergent, this action-packed and heart-wrenching second installment of MILA 2.0 will leave readers breathlessly awaiting the series conclusion.
I read and enjoyed Mila 2.0, the first book in this series by Debra Driza, but boy do I wish I'd read some sort of recap before I jumped into this sequel! I remembered the characters, but was very fuzzy on events that took place at the end of the first book, which meant I was somewhat confused when I started reading.
That said, once I got my bearings, I enjoyed Renegade, especially as the story went on. I wasn't very invested in the romance with Hunter, but I loved the on-the-run element of the story, and the twists and turns.
The book was too long for me, making it drag at times, but I'm excited about the ending. I'm looking forward to seeing where Driza will go with it and how she'll wrap it up in the next book.
This was another fun, action-packed read. If you enjoyed Mila 2.0, you'll definitely want to pick this up!