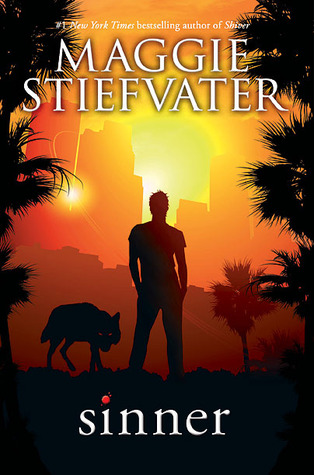 Sinner
By Maggie Stiefvater Series:
The Wolves of Mercy Falls #3.5
Source
Received from the publisher at BEA
Published by
Scholastic
on July 1, 2014
Received from the publisher at BEA in exchange for an honest review. This does not affect my opinion of the book or the content of my review.
Rating:

Cover image and summary from Goodreads:

A standalone companion book to the internationally bestselling Shiver Trilogy.

Sinner follows Cole St. Clair, a pivotal character from the #1 New York Times bestselling Shiver Trilogy. Everybody thinks they know Cole's story. Stardom. Addiction. Downfall. Disappearance. But only a few people know Cole's darkest secret -- his ability to shift into a wolf. One of these people is Isabel. At one point, they may have even loved each other. But that feels like a lifetime ago. Now Cole is back. Back in the spotlight. Back in the danger zone. Back in Isabel's life. Can this sinner be saved?
I enjoyed Maggie Stiefvater's The Wolves of Mercy Falls series (Shiver, Linger, Forever) and when I heard about this companion story (following Cole and Isabel), I was definitely intrigued.
I went into this book without any sort of refresher on the series. I don't know if I should have checked out a recap or something, but I think the story provided enough of the background material that I was fine. I'd be curious to hear from someone who read this without having read the rest of the series, to see if it really made a difference to reading this story.
Normally I read pretty quickly and it doesn't take me long to finish a book, but for some reason it took me longer than usual to read Sinner. It isn't because I wasn't enjoying it; it wasn't a book that I felt compelled to read non-stop. It felt like more of a laid back read, one that I could take my time with.
As usual, Maggie Stiefvater's writing is wonderful. She has such a way with words, and I so enjoyed the way she described everything in Sinner.
Isabel and Cole are both such interesting characters, and I loved the way the book alternated between their POV. Cole was so charming yet infuriating at the same time, and Isabel was so cold at times, but there was no denying their feelings for each other. I figured I knew how it would end, so the fun was watching them try to be together, which was complicated by Cole's musical come-back.
This was a fun read and I appreciated following up on Cole and Isabel's story. Recommended!