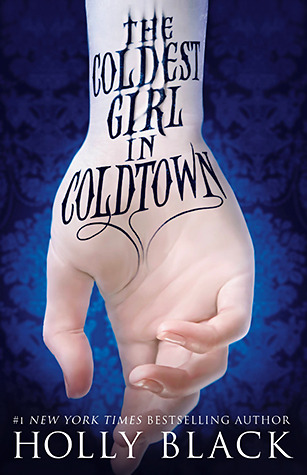 The Coldest Girl in Coldtown
By Holly Black Source
Purchased
Published by
Little, Brown Books for Young Readers
on September 3, 2013
Rating:

Cover image and summary from Goodreads:

Tana lives in a world where walled cities called Coldtowns exist. In them, quarantined monsters and humans mingle in a decadently bloody mix of predator and prey. The only problem is, once you pass through Coldtown's gates, you can never leave.

One morning, after a perfectly ordinary party, Tana wakes up surrounded by corpses. The only other survivors of this massacre are her exasperatingly endearing ex-boyfriend, infected and on the edge, and a mysterious boy burdened with a terrible secret. Shaken and determined, Tana enters a race against the clock to save the three of them the only way she knows how: by going straight to the wicked, opulent heart of Coldtown itself.

The Coldest Girl in Coldtown is a wholly original story of rage and revenge, of guilt and horror, and of love and loathing from bestselling and acclaimed author Holly Black.
This was one of my most-anticipated reads for 2013! I even did a Waiting on Wednesday post on it last month.
I was really excited to read this book because it sounded dark, and different from a lot of books I've read. I'm happy to say that this book was dark, violent, and quite unique. I haven't read many vampire books, and this one was very different from those I have read. I felt like I was reading something new and fresh. I loved the idea of Coldtowns and the whole vampire mythology and outbreak in this book.
I liked the way the chapters alternated between present day, and short flashbacks or scenes from the lives of other characters. It was nice to get a glimpse into Pearl or Gavriel's life, and it created a nice break in the story.
I also loved that there was no love triangle! Yes, Tana's ex-boyfriend Aidan is in the book, but there's no romance between the two of them, and I'm glad. Her relationship with Gavriel was interesting enough without needing to complicate things unnecessarily with another love interest.
For the most part, I liked and cared about the characters. The story started off with a great scene, and I liked Tana right away. Over time, I found her actions frustrating at times because she seemed a bit reckless, but she was likable through it all. She was also brave and willing to risk everything for the people she loved. I also liked Gavriel. He was dangerous and mysterious, which sounds pretty stereotypical for a vampire, but there was a hint of vulnerability to him. Even the villains and side characters were interesting and in many cases had me wanting to know more about them.
As much as I loved the atmosphere and characters, it felt at times like the story was dragging, or that it was a bit aimless. There were some really good scenes but it felt like they were followed by periods where not a lot was happening. I should say, though, that I read this book while I was battling a major cold and my head felt quite fuzzy at times, so that could be why I felt the book was aimless on occasion. I had a tough time focusing and had to keep putting the book down.
This was my first Holly Black book, but it won't be my last. I am planning to start reading her Curse Workers series. If you like paranormal books, I definitely recommend this one.