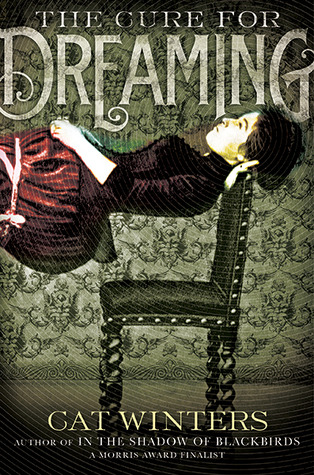 The Cure for Dreaming
By Cat Winters Source
Library
on October 14, 2014
Rating:

Cover image and summary from Goodreads:

Olivia Mead is a headstrong, independent girl—a suffragist—in an age that prefers its girls to be docile. It's 1900 in Oregon, and Olivia's father, concerned that she's headed for trouble, convinces a stage mesmerist to try to hypnotize the rebellion out of her. But the hypnotist, an intriguing young man named Henri Reverie, gives her a terrible gift instead: she's able to see people's true natures, manifesting as visions of darkness and goodness, while also unable to speak her true thoughts out loud. These supernatural challenges only make Olivia more determined to speak her mind, and so she's drawn into a dangerous relationship with the hypnotist and his mysterious motives, all while secretly fighting for the rights of women. Winters breathes new life into history once again with an atmospheric, vividly real story, including archival photos and art from the period throughout.
I took this out from the library because I really enjoyed Cat Winters' In the Shadow of Blackbirds, which I read last year for book club.
As in that book, the author includes photographs from the era in which her story is set, which I liked. The photos were an interesting addition to the story and reminded me that some of the struggles Olivia experiences in this book were a part of life for real women.
I read this book while I was in a little bit of a reading slump, so it took me some time to get into it and then to finish it. I really loved the focus on feminism and suffrage, and I liked the mildly supernatural element in the book, but I wasn't feeling the romance.
I enjoyed The Cure for Dreaming but didn't love it. Cat Winters' writing is excellent, and the story is interesting. Recommended!