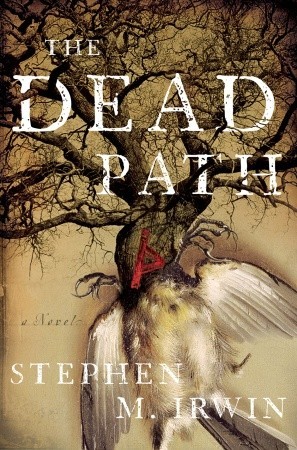 The Dead Path
By Stephen M. Irwin Source
Library
Published by
Doubleday
on October 5, 2010
Rating:

A haunting vision in the woods sets off a series of tragic events, leaving Nicholas Close lost amid visions of ghosts trapped in their harrowing, final moments. These uniquely ter­rifying apparitions lead him on a thrilling and suspenseful ride to confront a wicked soul, and will leave an indelible mark on lovers of high-quality suspense and horror alike.

Nicholas Close has always had an uncanny intuition, but after the death of his wife he becomes haunted, literally, by ghosts doomed to repeat their final violent moments in a chilling and endless loop. Torn by guilt and fearing for his sanity, Nicholas returns to his childhood home and is soon entangled in a dis­turbing series of disappearances and murders—both as a sus­pect and as the next victim of the malignant evil lurking in the heart of the woods.

Stephen M. Irwin is the kind of debut author that readers love to discover—and rave about to all their friends. His electric use of language, stunning imagery, and suspenseful pacing are all on full display here. The Dead Path is a tour de force of wild imagination, taut suspense, and the creepiest, scariest setting since the sewers in Stephen King's It.
Sorry that it's been so quiet around here lately – I've been spending a lot of time playing Nintendo on my new Wii U, an early Christmas present from Mr. Pingwing!
This is a book that caught my attention while I was browsing the library's catalog.
I don't read much horror, but a lot of my favourite TV shows have a supernatural element, and I was in the mood for a creepy read.
I liked the first half of the book well enough, particularly the stuff about Nicholas's visions. It reminded me of the concept of a death echo from a TV show I like – Nicholas can see ghosts reenacting the moments they died, over and over. It was, of course, disturbing when Nicholas began having these visions, but it was so wonderfully creepy to read about him experiencing this, often while surrounded by people who couldn't see and had no idea what awful things Nicholas was forced to witness. I also thought it was a nice, spooky touch that these ghosts could see or sense Nicholas and knew that he could see them.
One of these death echos leads Nicholas deep into the woods of his childhood home town, and triggers memories of terrible childhood trauma. It all sets Nicholas on the path to seeking out the evil that lurks in the woods and is responsible for several murders, to try to put a stop to it once and for all.
I liked several of the characters in this book, particularly Nicholas's sister. I liked that she was a fairly take-charge person and had her life so together, in contrast with Nicholas who seemed to be coming apart at the seams by comparison. When Nicholas decided to tell her about his visions, it was refreshing that she believed him and eventually wanted to help him destroy the evil thing in the woods.
Now, I must warn my fellow arachnophobes: there are a lot of passages with spiders in this book. There are little spiders, big spiders, even giant, dog-sized ones, and there are so many of them! I hate spiders, and I found myself skimming sentences that went into great detail describing them, but I must admit, it was very effectively creepy and spooky and it gave me the chills to read about them all! If you're like me, consider this a warning that you too may want to skim some of those parts!
Irwin is an excellent writer, and I was easily able to visualize what I was reading about.
Unfortunately, my interest and enthusiasm for this book couldn't be sustained and the ending disappointed me. It just felt clichéd and predictable. I was hoping that elements of Nicholas's visions – why the ghosts are trapped in these loops, for example – would be explained, particularly since Nicholas himself wondered about this quite frequently, but unless I missed it, it was not fully explained. As that was the aspect of the story that I was most interested in and that truly intrigued me, I wanted to read more about it.
SPOILER ALERT – SKIP THIS PARAGRAPH IF YOU DON'T WANT TO KNOW MORE ABOUT THE PLOT! I was not very interested in the big evil turning out to be some ancient woman in the woods.  I didn't find her frightening – menacing, yes, evil, of course, but not scary and not very interesting. Her spiders were scarier! I was also rolling my eyes every time she turned into the beautiful young Rowena – oh great, another female character who uses sexuality and her body as weapons or tools for evil purposes. Yawn. END OF SPOILERS.
Overall, if you like horror/scary stories, you may enjoy this, but I can't strongly recommend it. I liked the book a lot at first, but in the end, it wasn't what I wanted. Everyone is different, though, and although I haven't read any Stephen King, I've seen other reviews on this book that recommend it for King fans, so maybe that will be enough to sell some people on this one.