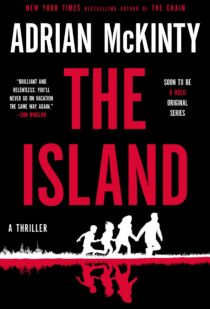 The Island
By Adrian McKinty Source
Library
on May 17, 2022
Rating:

After moving from a small country town to Seattle, Heather Baxter marries Tom, a widowed doctor with a young son and teenage daughter. A working vacation overseas seems like the perfect way to bring the new family together, but once they're deep in the Australian outback, the jet-lagged and exhausted kids are so over their new mom.

When they discover remote Dutch Island, off-limits to outside visitors, the family talks their way onto the ferry, taking a chance on an adventure far from the reach of iPhones and Instagram.

But as soon as they set foot on the island, which is run by a tightly knit clan of locals, everything feels wrong. Then a shocking accident propels the Baxters from an unsettling situation into an absolute nightmare.

When Heather and the kids are separated from Tom, they are forced to escape alone, seconds ahead of their pursuers.

Now it's up to Heather to save herself and the kids, even though they don't trust her, the harsh bushland is filled with danger, and the locals want her dead.

Heather has been underestimated her entire life, but she knows that only she can bring her family home again and become the mother the children desperately need, even if it means doing the unthinkable to keep them all alive.
Whew this book was a ride! It was a major page-turner and I can definitely see it working as a TV adaptation (which it apparently will be). The pace was fast, and the life and death stakes were established pretty early on. It didn't take much time for things to get intense and dangerous.
While I appreciated the action and the pace, I didn't care about the characters and in fact thought they were all so annoying that I wasn't concerned at all for their well-being. This was a very surface-level read for me: a tense page-turner (even as things got pretty ridiculous) that kept me reading, but with no emotional investment.
This book reminded me a lot of No Exit by in the way that it made me feel so weary of the violence and threats of violence against the characters, particularly women and girls. The antagonists came across as stereotypes and all of the characters felt very flat. The ending also felt pretty anticlimactic and jarring to me, and while this was a quick read, with enough tension and twists to keep things interesting, it isn't one that will stick with me.