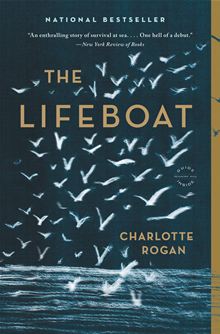 The Lifeboat
By Charlotte Rogan Source
Library
Published by
Reagan Arthur Books
on April 3, 2012
Rating:

Grace Winter, 22, is both a newlywed and a widow. She is also on trial for her life.

In the summer of 1914, the elegant ocean liner carrying Grace and her husband Henry across the Atlantic suffers a mysterious explosion. Setting aside his own safety, Henry secures Grace a place in a lifeboat, which the survivors quickly realize has exceeded capacity. For any to live, some must die.

As the castaways battle the elements and each other, Grace recollects the unorthodox way she and Henry met, and the new life of privilege she thought she'd found. Will she pay any price to keep it?
I've been wanting to read this book for quite some time, but when I borrowed a copy from the library, Mr. Pingwing read it first! When he was finished, I was so eager to read this that I got through the book in a single day (it's not a big book). It was fun to talk about a book we'd both read!
I loved the premise, and since I recently read The Raft, another stranded-at-sea tale that I really enjoyed, I was very much looking forward to this book.
What was equally intriguing and frustrating about this book was that Grace was an unreliable narrator. Because I knew from the outset that she was on trial and that she was recounting many of the events on the lifeboat with the understanding that someone was going to be reading it, I was skeptical of some of what was said, and I felt very sure that much/most of what Grace recounted was done in such a way to show herself in a better light, with an aim to exonerate herself from any charges.
Maybe that's why I felt that some elements of Grace's story were introduced but never fully explained, or forgotten about altogether. It felt, at times, as though I was trying to put together a puzzle that was missing some pieces. But every time I had a complaint about the story (e.g. not spending more time talking about the deaths of some people on the lifeboat), I wondered if those incidents were addressed so briefly because that's exactly how Grace wanted it. Giving any more detail might not have been in her best interest, given her present circumstances.
It is also entirely possible that Grace was not being as manipulative as I thought she was – perhaps it was an effect of the events on the ocean liner and then on the lifeboat that made her unable to recall certain moments. I had to keep reminding myself that she was without much, if any, food, water, shelter, etc. and that it was just as likely that, rather than manipulating the reader, she was being as honest as she could be, and that gaps in her memory could be attributed to the trauma, both physical and emotional, that anyone in her position would have experienced.
View Spoiler » There were other things that I wish I had been able to learn more about (e.g. what caused the boat to sink, what was Grace doing when she learned the boat was sinking, what happened to Henry, what about the gold on board, what was the true relationship between Blake and Hardie, did Henry pay for Grace's place on the lifeboat, did Grace play any part in Mary Ann's death, etc.) but I felt able to piece together some of those answers (although I would certainly love to hear what other readers thought!). « Hide Spoiler As I said, though, since all information the reader got was filtered, in a sense, by Grace, I felt that I was only able to know the things that she wanted me to know.
As perhaps an extension of Grace's narration, I never felt that I really connected with the characters in this book. While there were some people on the lifeboat who were more prominent people in Grace's tale, there were an awful lot of them who I couldn't really tell apart from the others (keeping in mind, though, that there were 39 characters on the lifeboat). Therefore the deaths of many of these characters didn't particularly touch or affect me (and it seemed to me that these deaths, for the most part, didn't seem to have much impact on Grace). If Grace didn't feel any connection to many of these other passengers, I didn't expect myself to either, since I was 'seeing' events through Grace's eyes.
For all my complaints, though, I thought the book was very well written, and once I started reading, I couldn't put it down. There are other things I haven't touched on (Charlotte's life pre-lifeboat, her relationship with Henry, whether she was dependent on others for survival or whether she was someone who could help herself) that I find myself still thinking about, and I plan to spend some time checking out other reviews and discussions to see what other readers thought and how they reacted to this book.
I would definitely be interested in reading something else by Charlotte Rogan (I believe this is her debut novel), and I recommend this to fans of historical fiction, survival stories, or people who like complex narrators.