August 18 – 24
Oh boy what a week! It started with a day trip to Toronto for the HCC Frenzy event, and ended with vacation prep!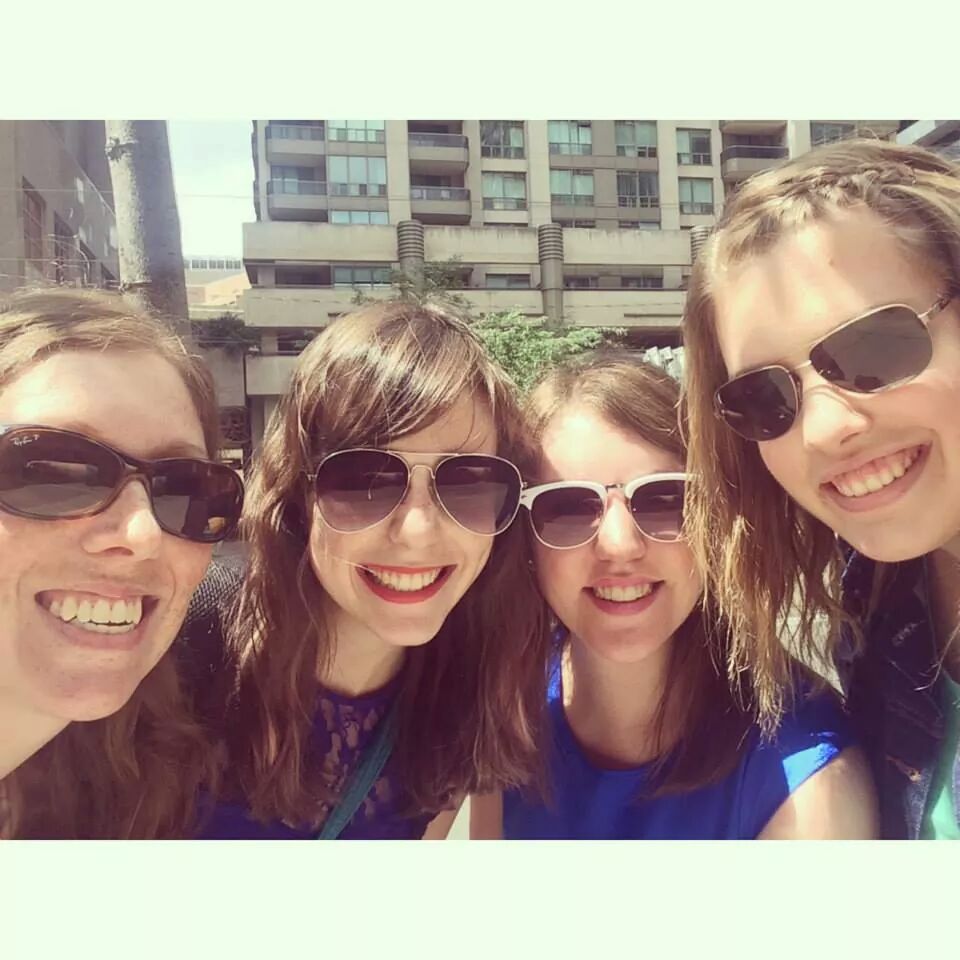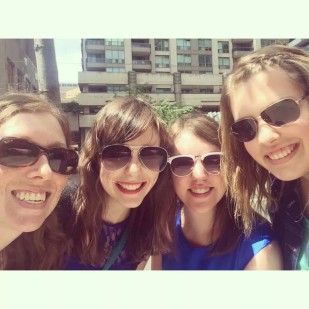 I was lucky enough to be invited to the HCC Frenzy Presents event, which took place last Sunday in Toronto. You can read Michelle's recap here. The day was a whirlwind: I got up at 5 a.m. to take the Greyhound with Emilie, Ciara, and Jess to Toronto. We got in to the city and of course we had to stop at a bookstore!I bought myself a copy of The Supernatural Enhancements, by Edgar Cantero.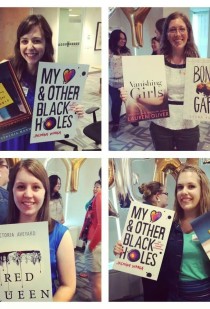 We made our way to the HarperCollins Canada office, and things got underway. We heard about upcoming books, played some trivia, and had fun with the photo booth props. And it was great to see other bloggers, many of whom I'd never met in person! It was also so great to chat with the HarperCollins people.
Of all the books that we heard about, the ones I'm the most excited for are Bone Gap by Laura Ruby and Vanishing Girls by Lauren Oliver.
I was so excited to end up with an arc of The Perfectionists! I might have been flailing about it…I do love me some Pretty Little Liars, and I can't wait to see what Sara Shepard does in this new series (I ended up with two copies, so keep your eyes out for a giveaway, coming soon!). I also received a signed, finished copy of Cruel Beauty by Rosamund Hodge, and Eve Silver was there to host trivia and she signed copies of her book Rush for us.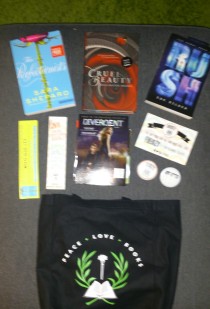 Afterwards, we went for dinner with some of the Toronto bloggers, which was so fun! We talked books (of course), fave 90s/2000s TV shows (Dawson's Creek, Buffy, Saved by the Bell, Gilmore Girls, The O.C.), and life. Then the Ottawa crew boarded the 9 p.m. bus back home, rolling into town around 2 in the morning. What a day! I love talking books with fellow book lovers!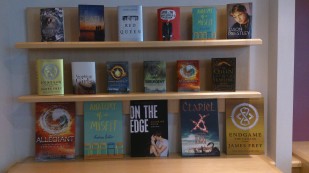 Then it was back to work for a few days. And now I'm on vacation for a week! Best feeling ever.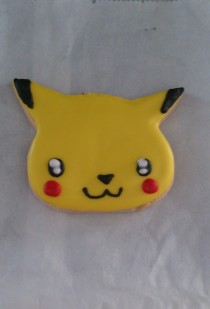 My younger sister and her husband were in town this weekend, and after they greeted me with a Pikachu cookie, we spent Saturday morning shopping for books and video games, followed by lunch at our favourite Chinese food restaurant. I picked up the paperback of Anna Dressed in Blood and the sequel, Girl of Nightmares. They're two of my favourite books, and I decided that it was time to purchase my own physical copies.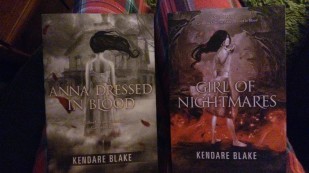 So now I'm trying to figure out which books to take with me for some vacation reading! It's a tough choice, but I think I've narrowed it down to ten books to choose from!
In addition to all of that book goodness, I had a few books I'd ordered online show up at my door this week:
Dangerous Boys by Abigail Haas (paperback from The Book Depository)
Ruin and Rising by Leigh Bardugo (paperback from The Book Depository)
Ghost House by Alexandra Adornetto (I loved the arc so much that I had to have a finished copy)
The Disenchantments by Nina LaCour
If You Find Me by Emily Murdoch
These are some of my new books, stacked up all nice and pretty: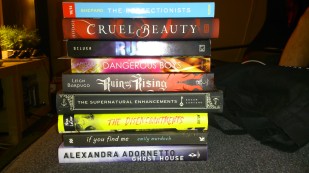 And these are my new books after SOMEONE *cough*husband*cough* spilled coffee all over them: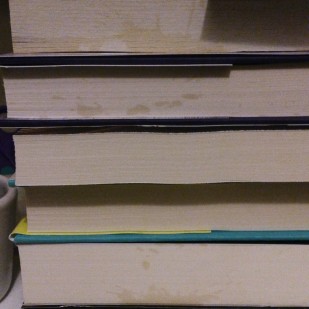 On the bright side, the covers and the pages inside the book were undamaged, so I decided it wasn't that big a deal and not worth getting upset over. Phew!
I finished reading three books last week: Camp Utopia and the Forgiveness Diet by Jenny Ruden; The Swap by Megan Shull; and Made For You by Melissa Marr.
Currently, I'm reading Dangerous Boys. I'm really excited for this one because Dangerous Girls was a twisty mystery, and I've heard nothing but good things about Dangerous Boys!
On the blog, I posted a bunch of reviews:
Camp Utopia and the Forgiveness Diet
Feral by Holly Schindler
Amity by Micol Ostow
Even though I'm on vacation this week, I've got some reviews scheduled for the next few days:
Can't Look Away by Donna Cooner
Chasing Before (The Memory Chronicles #2) by Lenore Appelhans
Lola and the Boy Next Door by Stephanie Perkins
Well! After all that, I'm really looking forward to a relaxing week full of reading, catching up on some TV shows and movies, and hanging out with my husband.
Happy Sunday!