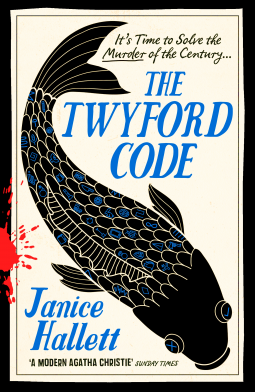 The Twyford Code
By Janice Hallett Source
Library
Published by
Viper
on January 13, 2022
Rating:

It's time to solve the murder of the century...

Forty years ago, Steven Smith found a copy of a famous children's book, its margins full of strange markings and annotations. He took it to his remedial English teacher, Miss Isles, who became convinced it was the key to solving a puzzle. That a message in secret code ran through all Edith Twyford's novels. Then Miss Isles disappeared on a class field trip, and Steven's memory won't allow him to remember what happened. Now, out of prison after a long stretch, Steven decides to investigate the mystery that has haunted him for decades. Was Miss Isles murdered? Was she deluded? Or was she right about the code? And is it still in use today? Desperate to recover his memories and find out what really happened to Miss Isles, Steven revisits the people and places of his childhood. But it soon becomes clear that Edith Twyford wasn't just a writer of forgotten children's stories. The Twyford Code has great power, and he isn't the only one trying to solve it..
I quite enjoyed Janice Hallett's The Appeal last year, so I was eager to read her next book, The Twyford Code.
Unfortunately, I really struggled with this book. I found it initially really intriguing, since I love books about books, particularly when there is a mystery involved, as is the case here. But the more I read, the more confused I became, and I began to lose interest. Eventually at the end it picked up some steam for me and I definitely wanted to know what happened to Miss Isles and what The Twyford Code was, but there was something about this book that left me lukewarm about the whole thing, although I can see and appreciate the work that went into it and the cleverness of its structure. The book gets fantastic reviews and lots of readers have loved it, so it just wasn't for me, because it gets fantastic reviews.