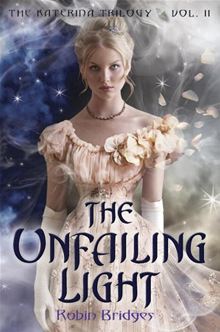 The Unfailing Light
By Robin Bridges Series:
Katerina #2
Source
Library
Published by
Delacorte Books for Young Readers
on October 9, 2012
Rating:

Having had no choice but to use her power has a necromancer to save Russia from dark forces, Katerina Alexandrovna, Duchess of Oldenburg, now wants to forget that she ever used her special powers. She's about to set off to pursue her lifelong dream of attending medical school when she discovers that Russia's arch nemesis--who she thought she'd destroyed--is still alive. So on imperial orders, Katerina remains at her old finishing school. She'll be safe there, because the empress has cast a potent spell to protect it against the vampires and revenants who are bent on toppling the tsar and using Katerina for their own gains. But to Katerina's horror, the spell unleashes a vengeful ghost within the school, a ghost more dangerous than any creature trying to get in.
This is the sequel to The Gathering Storm, which I read in September and really liked.
Everything that I liked about the first book was back in this one: the setting, the characters, the talk of dark vs light powers…this was as good a book as the first one.
However, the cover for this one just doesn't do anything for me. It does show the dark and the light on either side of Katerina, but something about it just doesn't appeal to me the way the cover of The Gathering Storm did.
As for the book itself, if you read and enjoyed TGS, I definitely recommend this. The story picks up not long after TGS left off, and Katerina is looking forward to attending medical school, which has been her dream. She learns, though, that the lich tsar is still around, despite their attempts to defeat him in TGS, and she is ordered to return to Smolny for a final school year, where the imperial family can protect Katerina and the school from magic. However, this results in Katerina not being able to use her abilities, or leaving the school grounds.
I was a bit disappointed that I wouldn't be able to read about Katerina's new life abroad at medical school, but I enjoyed reading about Katerina and the other girls at the school – I love boarding school settings – and the balls they attend.  There was also some intrigue at the school, as a ghost has appeared and is growing more and more dangerous, particularly without Katerina able to use her abilities.
Katerina still has feelings for George, but fears that his mother would never approve of a match between the two of them, as Katerina belongs to the dark court and George's family to the light court. Complicating matters is the blood bond that she now shares with Danilo, the Montenegrin prince. He seems to be able to communicate with her telepathically, which of course infuriates Katerina, and yet he helps her at times, which also makes her suspicious. I liked Danilo's role in this story much more than in TGS, although he seemed very confident that Katerina would marry him at some point. Dude, get the hint – she isn't interested in you! Haha. But this blood bond seems to be an issue that won't go away, and I'm sure will be a focal point in the next book.
The end of this book hints at some plot points for the next, and I'm really looking forward to reading that. As fun as this book was, I didn't feel as though it told me anything more about Katerina's powers and this blood bond with Danilo. But as I said, if you enjoyed The Gathering Storm, I think you'll like this book too.