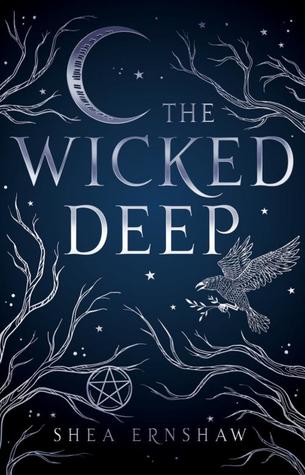 The Wicked Deep
By Shea Ernshaw Source
Library
Published by
Simon Pulse
on March 6, 2018
Rating:

Where, two centuries ago, three sisters were sentenced to death for witchery. Stones were tied to their ankles and they were drowned in the deep waters surrounding the town.

Now, for a brief time each summer, the sisters return, stealing the bodies of three weak-hearted girls so that they may seek their revenge, luring boys into the harbor and pulling them under.

Like many locals, seventeen-year-old Penny Talbot has accepted the fate of the town. But this year, on the eve of the sisters' return, a boy named Bo Carter arrives; unaware of the danger he has just stumbled into.

Mistrust and lies spread quickly through the salty, rain-soaked streets. The townspeople turn against one another. Penny and Bo suspect each other of hiding secrets. And death comes swiftly to those who cannot resist the call of the sisters.

But only Penny sees what others cannot. And she will be forced to choose: save Bo, or save herself.
I have borrowed this book probably three times from the library before I finally got around to actually reading it! And I really liked it, so I am sort of kicking myself for not reading it sooner.
This was a really intriguing, atmospheric story. I loved the setting, and I thought the twists and turns were super interesting and it was fun to see how everything unraveled.
I really liked this book. It's not scary, but it has a cool paranormal element to it that I loved. I see that Shea Ernshaw has a new book, Winterwood, coming out later this year, and I'm definitely adding it to my TBR!