Week In Review
September 16 – 22
Well! This week started off unpleasantly, as I caught a bad cold and was feeling so bad that I took two days off work (which pretty much never happens. I'm rarely sick and have used a handful of sick days in my four years at this job). I thought I'd at least be able to get some reading done, but my head felt so congested and fuzzy that I had a really tough time concentrating. I'm feeling 99% back to normal now though, thank goodness!
I got some nice mail, though, which lifted my spirits a bit: a book I pre-ordered came in the mail early, and I received my NCLA nail polish order!
I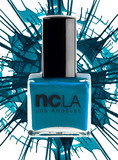 ordered Malibu Beach Babe after I saw it on the Life and Polish blog. I love blues and greens, and this definitely looked like my kind of colour! I don't have anything that's too similar to this one, so it's an excellent addition to my polish collection.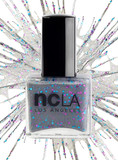 While I was browsing the site, I came across Sugar Fix, this beautiful grey polish with micro glitters and larger circle glitters in it, and knew I had to get a bottle! I am wearing this on my nails right now and I adore it! It took about three coats for desired opacity, and the different glitters are so fun! I don't have anything like this polish – nothing even comes close – and I'm so happy I got it! The formula was great, the glitter pay off is fabulous, and my husband likes this one, which is a major bonus.
I added a bunch of books/ebooks to my collection this week. There were too many books coming out that I couldn't wait to get my hands on! Victoria Schwab's Vicious (which I preordered ages ago and arrived last week, ahead of the release date); Leila Sales' This Song Will Save Your Life; Jay Kristoff's Kinslayer; Tumble & Fall by Alexandra Coutts; and 3:59 by Gretchen McNeil. And I got The Sound by Sarah Alderson. Phew!
I finished reading four books this week: The Coldest Girl in Coldtown by Holly Black; Fangirl and Eleanor & Park by Rainbow Rowell; and Dance of the Red Death by Bethany Griffin. I have to say, Rainbow Rowell is now one of my favourite authors!
Currently, I'm reading Vicious and Feed by Mira Grant, which I've had forever and have been meaning to read for soooooo long. So far, I'm loving both books.
Last week I posted my reviews of Reboot by Amy Tintera, The Dream Thieves by Maggie Stiefvater (PERFECT), and Throne of Glass by Sarah J. Maas. I also shared my Top Ten Tuesday post on the top ten books on my fall TBR list, and my Waiting on Wednesday post about Jenny Han's To All the Boys I've Loved Before.
Coming up this week are my reviews of Find Me by Romily Bernard and Earthbound by Aprilynne Pike.
As I'm still recovering from my cold, and my husband may be getting sick now, I'm just going to take it easy the rest of the weekend and curl up on the couch with my books and some coffee, and occasionally watch as my husband plays Grand Theft Auto V.
Happy weekend!
Related Posts