November 4 – 10
Happy Sunday everyone! Here in Ottawa we had a hint of our first snow this weekend. Yikes! I'm not quite ready for snow and winter yet!
I had a very great book week. I acquired a whole bunch of books, expanding my library to the point where I have officially run out of shelf space. I need to find a place to keep my new books!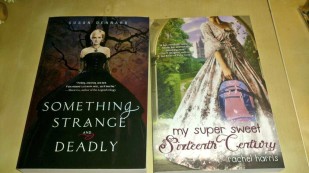 I bought Susan Dennard's Something Strange and Deadly, which I've been wanting to read forever, and Rachel Harris's My Super Sweet Sixteenth Century, because I got the sequel in my goody bag at the Ontario Blog Squad meet up and thought the series sounded fun. I was very excited when they showed up in the mail mid-week!
Then on Saturday, I had an eye exam right across from Chapters. I texted my husband that I was headed to the bookstore after my appointment, to make sure that he didn't worry about me when I didn't come home for another couple of hours!
I headed to the bargain table in the YA section, to check out the deals. I found some really great ones! At first I picked up like five hardcover books from the bargain table before I was able to talk some sense into myself – I had to carry those books home! But I ended up with some pretty exciting purchases: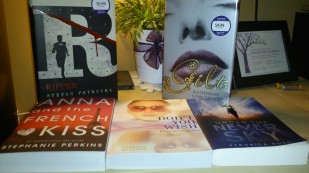 Ripper by Stefan Petrucha for $5.99 and Gilt by Katherine Longshore for $4.99, both hardcovers! I've been wanting to read both of these for so long, and the hardcovers look sooooo good!
I also got Veronica Rossi's Under the Never Sky, because the series is coming to an end and I really want to read it, and Don't You Wish by Roxanne St. Claire, which I was never able to find in ebook format and sort of forgot I wanted to read it until I spotted it on the shelves at Chapters.
I also got my own paperback of Anna and the French Kiss by Stephanie Perkins! I love this book so much, and have been wanting to get my own copy for a long time. I'm not much of a re-reader, but this is a book that I frequently think of reading again, as a comfort read. And look how pretty it is next to my (SIGNED!) copy of Lola and the Boy Next Door!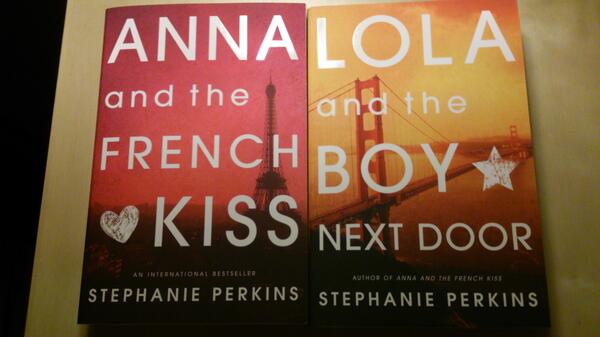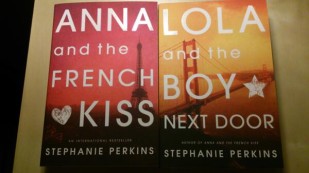 Now I just need Isla and the Happily Ever After to complete the collection! 🙂
I also got myself the audiobook of Mindy Kaling's Is Everyone Hanging Out Without Me, which we listened to in the car ride back from Toronto last weekend but didn't finish. I liked it so much and needed to know how it ended, and my husband said he'd listen to it with me if I got the audiobook. We're big fans of The Office and The Mindy Project (this is one of my favourite comedies), and Mindy Kaling is so hilarious!
I also got some eARCS via Edelweiss and Netgalley recently that I'm excited to read:
Life by Committee by Corey Ann Haydu
Tease by Amanda Maciel
Prisoner of Night and Fog by Anne Blankman
The Taking by Kimberly Derting
Poor Little Dead Girls by Lizzie Friend
I also picked up a bunch of books from the library:
Trinkets by Kirsten Smith
The Dinner by Herman Koch
Beautiful Disaster by Jamie McGuire
How My Summer Went Up in Flames by Jennifer Salvato Doktorski
Strangelets by Michelle Gagnon
So many awesome-sounding books! I'm looking forward to all of them!
My current reads are The F-It List by Julie Halpern, and Just One Year by Gayle Forman.
I only finished reading one book this week: The Murmurings, by Carly Anne West.
I posted my reviews of Eleanor and Park by Rainbow Rowell, Engines of the Broken World by Jason Vanhee, and Dance of the Red Death by Bethany Griffin.
I also shared my post on my three year blog anniversary. Three years already! Don't forget to check out my giveaway! I also shared my post on growing up in a family of readers.
Coming up this week are my reviews of Robin Wasserman's The Waking Dark, Allegiant by Veronica Roth (I was finally able to organize my thoughts into something semi-coherent), and The Nightmare Affair by Mindee Arnett.
It's cold, grey, and rainy here, so I'm going to curl up with my books, watch some Once Upon A Time, and listen to the end of Mindy Kaling's audiobook with my husband. Happy reading!