Week In Review
October 28 – November 3
I'm a bit late with this post but I had a pretty busy weekend! Well, better late than never!
On Friday afternoon I left Ottawa for the big city of Toronto to attend the third annual Ontario Blog Squad meet up! I was excited to travel with the Ottawa bloggers, and to meet the bloggers from Toronto. Jess and I took the train from Ottawa to Toronto, which was an excellent opportunity to get some reading done!
On Saturday our Ottawa group set out to meet Suman and Kaiti from Harper Collins for some yummy hot chocolate and awesome book talk! It was so nice to meet them, and I had a lot of fun talking about books and television shows.
Then we all headed out to the meet up, where we were provided with some very awesome tote bags full of books (see below for more info). There were so many people there! And it was really nice to put some faces to the blogs and Twitter accounts that I follow. The food was tasty, especially the chocolate peanut butter cheesecake I had for dessert, and I won a prize during the trivia draw – in fact, all of us Ottawa girls won!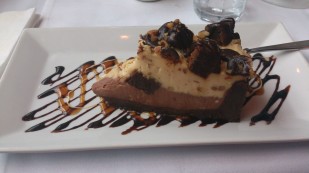 One of the best things about the weekend was getting to visit my sister and her husband. They just moved to Toronto, so Saturday night I took a cab out to their new place. I was exhausted after my long, busy day, and I wish I could have stayed longer, but we had a lot of fun eating candy and watching funny videos.
The next day, we met up with Ardo, Michelle, and Chandra for brunch (where the bathroom had an interesting Barbie / Ken doll display…) and spent a really long time eating and gabbing. It was just so much fun to be surrounded by similarly bookish people. I honestly feel that I could have kept chatting with them all for hours!
Then it was time for macarons! I need to find a place in downtown Ottawa that makes these because now I have the constant craving for macarons.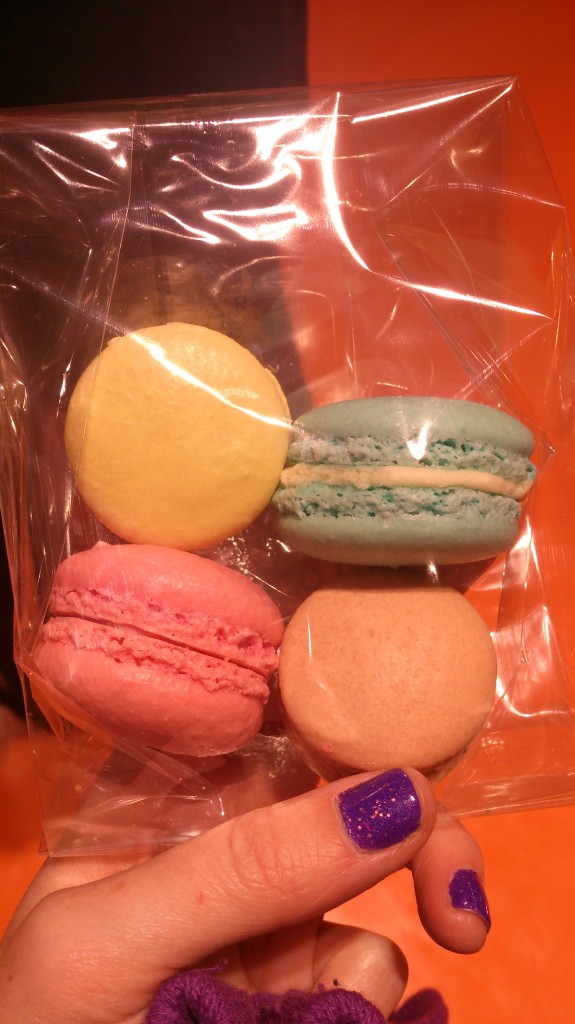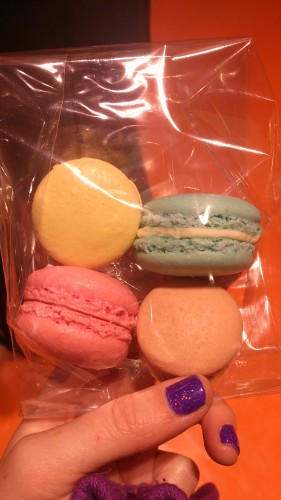 Then we hit the road for the drive back, listening to the audiobook of Mindy Kaling's Is Everyone Hanging Out Without Me?, which I loved. By the time I got home Sunday night, I was full of food, and excited to get reading and blogging.
I am usually really shy around people I don't know and when meeting new people, and crowds can be anxiety-inducing, but I'm pretty pleased that I managed to get out of my comfort zone and have an excellent time! Thank you to the organizers for putting together such a great event, and to the bloggers I got to spend a fun couple of days with! I am already looking forward to next year's meet up, and to the Ottawa meet up!
In other news, I am also celebrating my blog anniversary. Pingwing's Bookshelf turns three years old this month! Don't miss my anniversary post and giveaway!
Here's a picture of the books I picked up over the weekend at the meet up: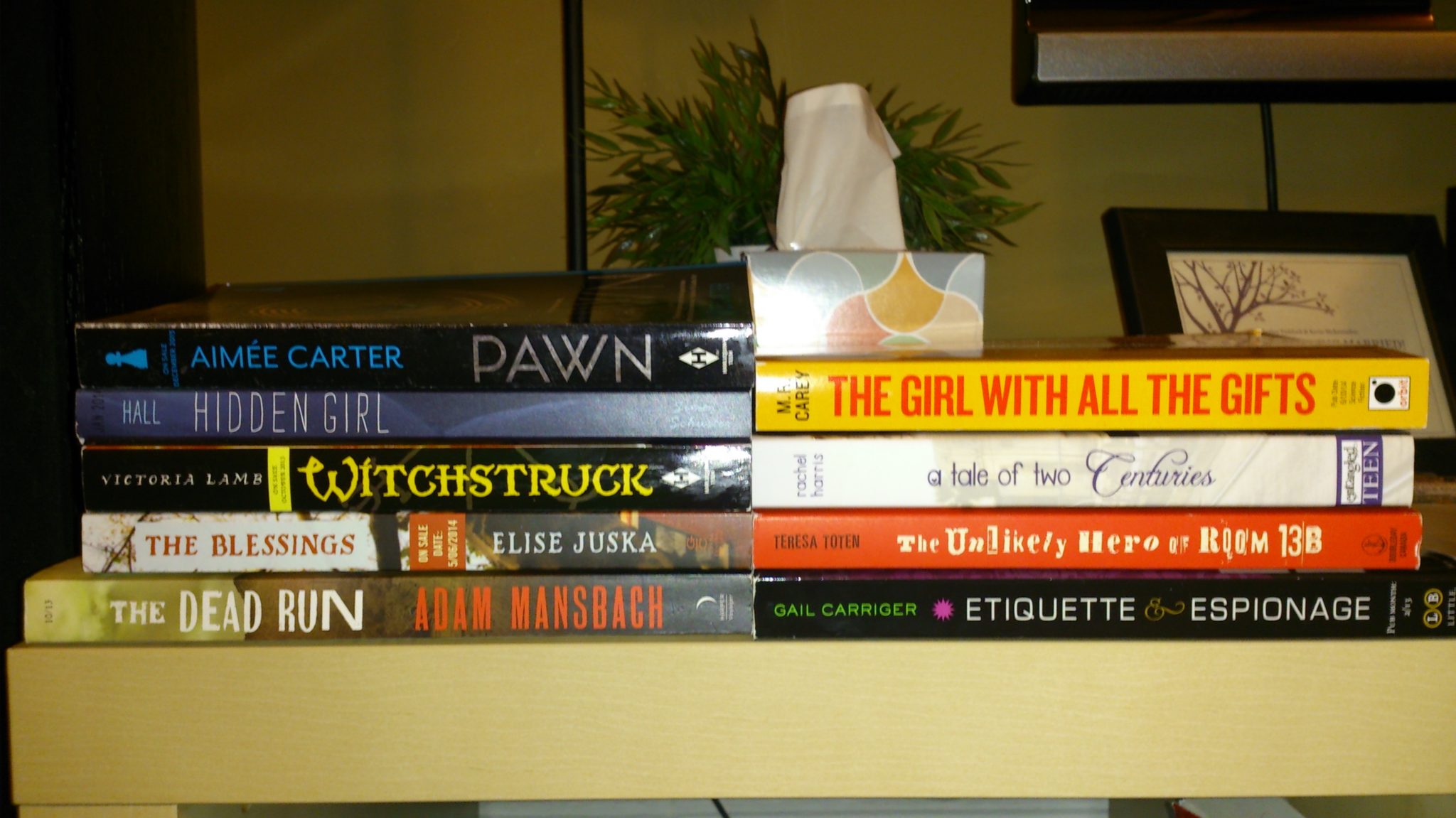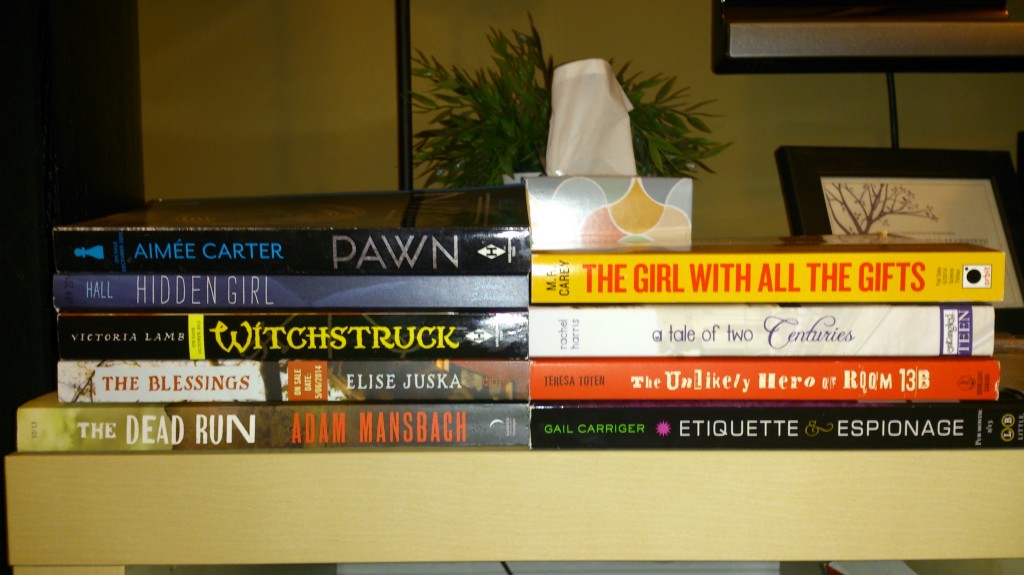 The books in the tote bag were:
Witchstruck by Victoria Lamb
The Blessings by Elisa Juska
The Dead Run by Adam Mansbach
The Girl With All the Gifts by M. R. Carey
A Tale of Two Centuries by Rachel Harris
The Unlikely Hero of Room 13B by Teresa Toten
I selected Pawn by Aimee Carter and Hidden Girl by Shyima Hall as my trivia draw prizes. I also picked up Etiquette & Espionage, by Gail Carriger, from Ardo as part of the book swap.
Currently I'm reading Carly Anne West's The Murmerings, and an e-ARC of The F-It List by Julie Halpern.
I finished reading Allegiant by Veronica Roth (and am still not sure how I feel) and The Boyfriend App by Katie Sise.
I posted my reviews of Fangirl by Rainbow Rowell, Feed by Mira Grant, and The Coldest Girl in Coldtown by Holly Black, along with my Top Ten Tuesday post on my top Halloween reads.
This week I'm posting my reviews of Rainbow Rowell's Eleanor and Park, Jason Vanhee's Engines of the Broken World, and Bethany Griffin's Dance of the Red Death.
Phew! I feel like I was so busy this past weekend that I need another weekend to rest and recover! Happy reading everyone!
Related Posts