December 8 – 14
What a weekend! Friday night was my work Christmas party, and last night the Ottawa Blogettes had our Secret Santa gift + book exchange! Both nights were super fun, but I have not had much sleep all week and feel beyond exhausted right now.
I've got one week of work left and then I'm off to London to see my parents and my sisters for Christmas. I'm looking forward to it so much more than I can put into words! It's going to be a week full of food, books, Nintendo, and Netflix.
My Secret Santa, Jess, gave me the BEST gift: Supernatural shoes! I'm only ever going to wear them inside so they stay clean and I can wear them forever. I'm wearing them right now! I love them so much.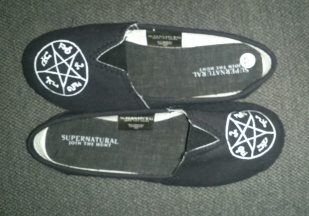 We also did a book exchange and I ended up with The Miseducation of Cameron Post by Emily Danforth, which I've been wanting to read for ages. I also borrowed Even in Paradise by Chelsea Philpot from Emilie and City of a Thousand Dolls by Miriam Forster from Ciara. Thanks girls!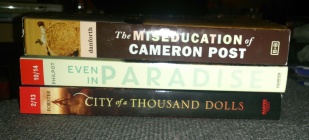 I also purchased a copy of Rites of Passage by Joy N. Hensley, which I'm so excited to read! I've heard such good things about this book and I'm really really really looking forward to reading it!
Currently, I'm reading Sabriel by Garth Nix and absolutely loving it (and asking myself why I haven't read this one sooner). I might end up binge reading this entire series.
My reading has super slowed down the last month or so. I finished one book this week: Blue Lily, Lily Blue by Maggie Stiefvater. It was amazing, of course, and now I'm eagerly waiting for the next book.
On the blog, I posted my reviews of Court by Cat Patrick and Yes Please by Amy Poehler. I also shared my Waiting on Wednesday pick: Lauren Oliver's upcoming Vanishing Girls.
Coming up this week are reviews of Something Strange and Deadly by Susan Dennard, and The Cure for Dreaming by Cat Winters.
I've got plans to spend the rest of the day wrapping Christmas presents, rewatching some Supernatural while I wear my new shoes, and reading (maybe finishing) Sabriel. Happy Sunday!