Week In Review
April 15 – 21
Yup, another Week in Review where I start by complaining about the weather! We had thunder, snow, hail, sleet, wind, sunshine…it was about 20 degrees on Friday and then got down to just below zero on Saturday night. Weather, why are you so confused??
I will not talk about the Blue Jays this week. I just can't even.
I'm trying to only post two reviews a week, so I have a whole bunch scheduled into mid-May. This week, I posted reviews for City of Ashes by Cassandra Clare, and Just One Day by Gayle Forman (I love love love that book!). I also posted my first Top Ten Tuesday, and wrote a Waiting on Wednesday post about Lauren Graham's Someday, Someday, Maybe.
I'm currently reading City of Glass (the third book in Cassandra Clare's The Mortal Instruments series) on my Kobo, and Unravel Me in hard cover from the library. So far, I'm enjoying both, although I have to say that Kenji in Unravel Me is totally saving this book for me – Juliette gets on my nerves a lot…
I'm surprising my husband this morning with some lemon squares. At the time of writing this post, the squares have just come out of the oven and need to cool before I sprinkle on the icing sugar, and husband is still asleep, but the house smells lemon-licious! I hope they taste yummy – baking is not my strength. I'm not very good at cooking either, but I feel like you have to be so precise with baking that it's too easy for me to mis-measure and ruin what would have been a tasty treat.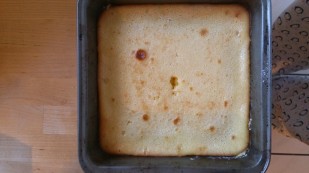 I don't know if it should look brown in spots, but you can sort of see where I tried to test it by sticking a fork in it. Maybe a lot of icing sugar on top will make them look better…oh look, you can see my penguin pajamas.
I'm meeting a friend later today to borrow her copy of Caitlin Moran's How to Be a Woman. I've heard really good things about this book, and I'm looking forward to reading it! Then I think my husband and I will venture out to get some gelato, which will be quite a treat – especially if my baking doesn't turn out!
Related Posts