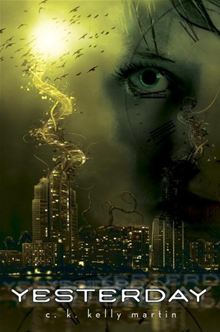 Yesterday
Series:
Yesterday #1
Source
Library
Published by
Random House
on September 25, 2012
Rating:

THEN: The formation of the UNA, the high threat of eco-terrorism, the mammoth rates of unemployment and subsequent escape into a world of virtual reality are things any student can read about in their 21st century textbooks and part of the normal background noise to Freya Kallas's life. Until that world starts to crumble.

NOW: It's 1985. Freya Kallas has just moved across the world and into a new life. On the outside, she fits in at her new high school, but Freya feels nothing but removed. Her mother blames it on the grief over her father's death, but how does that explain the headaches and why do her memories feel so foggy? When Freya lays eyes on Garren Lowe, she can't get him out of her head. She's sure that she knows him, despite his insistence that they've never met. As Freya follows her instincts and pushes towards hidden truths, the two of them unveil a strange and dangerous world where their days may be numbered. Unsure who to trust, Freya and Garren go on the run from powerful forces determined to tear them apart and keep them from discovering the truth about their shared pasts (and futures), her visions, and the time and place they really came from.
I wanted to read this book because I love stories involving time travel and dystopias, and I figured I'd borrow this from the library and give it a go. I ended up reading the book in one day, and it was a pretty easy read.
What I liked about this book was reading about Freya adjusting to her new school in Toronto in 1985. Yes, Toronto! I love reading books that take place in Canada, and even more when they're set in cities that I know! So fun. The references to 80's music, technology, and fashion were fun, although I did have to Youtube a lot of the songs/artists that were mentioned.
I also liked the easy pace of the story. It didn't move too fast, it wasn't complicated, and a lot of it was about Freya feeling like she didn't quite belong in her own life. Once she spots Garren, she knows that she knows him and can't quite place it. I liked reading about her efforts to convince Garren that they know each other and eventually when they realize how they know each other, the story picked up.
At times the story dragged a little – the book probably could have been a bit shorter – and I didn't love it, but I am a total sucker for stories involving time travel and this one got me. Freya and Garren were easy to like, and their developing romance was cute. There's going to be a sequel, Tomorrow, and I'll be curious to see where the story takes Freya and Garren next.