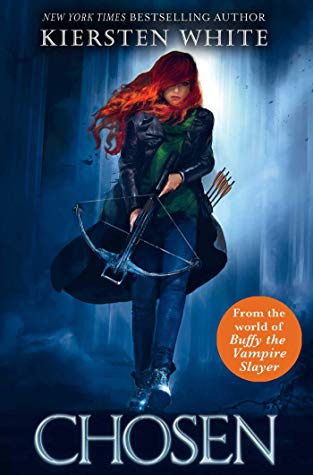 Chosen
By Kiersten White Series:
Slayer #2
Source
Received from the publisher
Published by
Simon Pulse
on January 7, 2020
Received from the publisher in exchange for an honest review. This does not affect my opinion of the book or the content of my review.
Rating:

Now that Nina has turned the Watcher's Castle into a utopia for hurt and lonely demons, she's still waiting for the utopia part to kick in. With her sister Artemis gone and only a few people remaining at the castle—including her still-distant mother—Nina has her hands full. Plus, though she gained back her Slayer powers from Leo, they're not feeling quite right after being held by the seriously evil succubus Eve, a.k.a. fake Watcher's Council member and Leo's mom.

And while Nina is dealing with the darkness inside, there's also a new threat on the outside, portended by an odd triangle symbol that seems to be popping up everywhere, in connection with Sean's demon drug ring as well as someone a bit closer to home. Because one near-apocalypse just isn't enough, right?

The darkness always finds you. And once again, it's coming for the Slayer.
I loved Slayer when I read it in 2019, so I was very excited to read this sequel. While I enjoyed Chosen, I didn't love it as much as I did Slayer.
I appreciate what the author was trying to do by separating Nina and Artemis, but that didn't really work for me. View Spoiler » And I really struggled with Artemis's actions and motivations. I wanted to believe that she believed what she was doing was right, but that was so difficult for me to buy into that it made reading this story a struggle at times. « Hide Spoiler
But I loved the links to the Buffyverse and the appearance of certain characters, however briefly, into this story. I also thought the action scenes were well written and the setting – the Watcher's castle – was fun. And the way different characters dealt with the events of Slayer were interesting to see.
Overall, while I don't think this was as strong as Slayer, I enjoyed it and definitely want to see where Nina's story goes next.