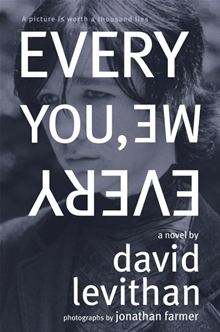 Every You, Every Me
By David Levithan Source
Library
Published by
Knopf Books for Young Readers
on September 13, 2011
Rating:

In this high school-set psychological tale, a tormented teen named Evan starts to discover a series of unnerving photographs—some of which feature him. Someone is stalking him . . . messing with him . . . threatening him. Worse, ever since his best friend Ariel has been gone, he's been unable to sleep, spending night after night torturing himself for his role in her absence. And as crazy as it sounds, Evan's starting to believe it's Ariel that's behind all of this, punishing him. But the more Evan starts to unravel the mystery, the more his paranoia and insomnia amplify, and the more he starts to unravel himself. Creatively told with black-and-white photos interspersed between the text so the reader can see the photos that are so unnerving to Evan, Every You, Every Me is a one-of-a-kind departure from a one-of-a-kind author.
I've read some David Levithan already (Love is the Higher Law, and Dash & Lily's Book of Dares, co-written with Rachel Cohn), and he's one of those authors whose works I'm always on the lookout for when I'm at the library. I picked this one up the other day and dug in.
I recently read another photographic novel, Miss Peregrine's Home for Peculiar Children, and I didn't really love it. The photos sometimes felt clumsily plunked into the story, but I liked the idea of mixing photos with a novel, and so was curious about this book.
Part of what I liked about this was not knowing what happened to Ariel – did she run away, is she dead, etc. – there are hints that may lead one way or another but it isn't clear (at least it wasn't to me) until the end of the book. It kept me reading, trying to figure out what happened and how Evan may have been involved, and why he might think he's being punished with these photos.
I liked the photos and the way they were used in this book. They fit the mood of the story perfectly. While I liked the story and was pleased with the book when I finished, though, I just didn't love it or feel completely drawn in. I didn't feel as though I got to know much about Evan or feel connected to him. I also found I couldn't quite connect with Ariel, as I only got to know her via the other characters and their memories of her.
That might have been part of what Ariel had been trying to tell Evan at one point, though: Evan can't know every 'her'. He begins to wonder, throughout the book, how well he really knew Ariel. Was she one person with him, and another with her boyfriend, and another with other people? How well can we really know someone else, or is it not possible to know all of a person?
Although I didn't quite connect to the characters, I enjoyed the story and the interesting narrative structure, and would recommend this book to those looking for something a little different.