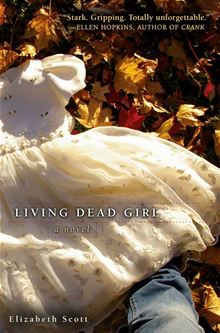 Living Dead Girl
By Elizabeth Scott Source
Library
Published by
Simon Pulse
on September 2, 2008
Rating:

When Alice was ten, Ray took her away from her family, her friends -- her life. She learned to give up all power, to endure all pain. She waited for the nightmare to be over.

Now Alice is fifteen and Ray still has her, but he speaks more and more of her death. He does not know it is what she longs for. She does not know he has something more terrifying than death in mind for her.

This is Alice's story. It is one you have never heard, and one you will never, ever forget.
I picked this up at the library yesterday and read it in one sitting.
This was a difficult book. I couldn't believe this was by the same author who wrote Stealing Heaven, which was such a fun book for me. This book was dark and disturbing, and I don't know why I decided to read it right after I finished Hate List, right before bed.
The story is narrated by 'Alice', as she is named by Ray, the man who kidnapped her from a class trip when she was ten years old.  He abuses her in a number of ways, constantly threatening to go to her parents' home to kill them if ever tries to run away or get help or tell anyone the truth. As she turns 15, she knows that she is the same age as the previous Alice before her, who was killed by Ray when she became to old to please him.
Alice hopes that he will kill her, since it's the only way that she thinks she'll ever be free of him. It turns out, though, that Ray wants her to help him find the next Alice, which she is only too eager to do, since it means he will pay less and less attention to her. Despite the dark subject matter, I found myself reading quickly, wondering if Alice would go through with Ray's plan to kidnap another child and what would happen to her in the end. I'm certainly not going to spoil the ending here, but geez, there is so much suspense and tension in this book, I knew I would have to read it all in one sitting.
Alice's story is very disturbing, but that doesn't mean it isn't a story worth telling. The story is told from Alice's first-person perspective, which is effective as it shows the reader how her five years with Ray have affected her, and how he controls her.
If you want to read a YA novel that tackles some very dark subject matter, I certainly recommend this one. I think, though, that I need to turn to something a bit lighter for my next read.