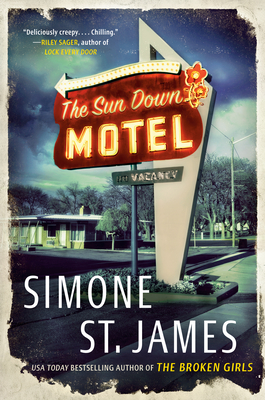 The Sun Down Motel
By Simone St. James Source
Library
Published by
Berkley
on February 18, 2020
Rating:

The secrets lurking in a rundown roadside motel ensnare a young woman, just as they did her aunt thirty-five years before, in this new atmospheric suspense novel from the national bestselling and award-winning author of The Broken Girls.

Upstate NY, 1982. Every small town like Fell, New York, has a place like the Sun Down Motel. Some customers are from out of town, passing through on their way to someplace better. Some are locals, trying to hide their secrets. Viv Delaney works as the night clerk to pay for her move to New York City. But something isn't right at the Sun Down, and before long she's determined to uncover all of the secrets hidden…
I love a good ghost story, and the idea of a haunted motel was irresistible to me!
I really liked the way this story was told by both Viv, in flashbacks to 1982, and her niece Carly in the present-day trying to piece together what exactly happened to Viv before she disappeared back then.
The setting was fantastic. Motels and hotels always have a bit of a creepy, strange vibe at night, and I loved imagining what this practically-deserted, run-down roadside motel felt like at night for Viv and Carly.
And it certainly didn't help things that the town seemed to have a dark history of women and girls disappearing and turning up dead around the same time that Viv disappeared, and that the Sun Down was seemingly populated by some pretty unhappy ghosts.
This was such a good tense read! And even though the motel is haunted, it definitely felt like more of a mystery to me so if you are not usually a horror reader but you like a good thriller, consider checking this one out!