June 27 – July 3
Hello and Happy Canada Day (a couple of days later) to my fellow Canadians! And happy Fourth of July to my American friends tomorrow! Hope everyone has a wonderful long weekend full of good food, good friends, and of course, good books!
I saw the movie Me Before You with my friends Kathy, Meaghan, and Emilie, and it was as good as I'd hoped it would be! I very nearly cried twice!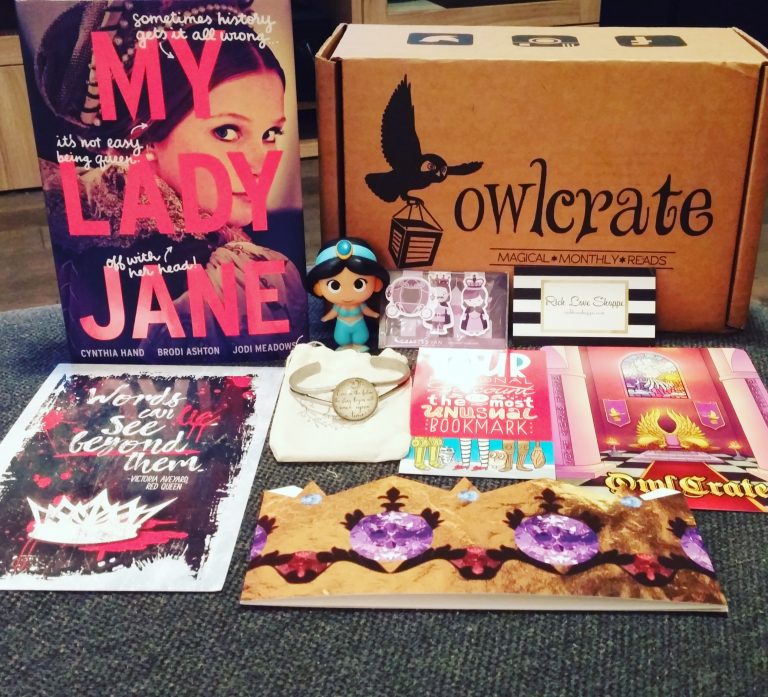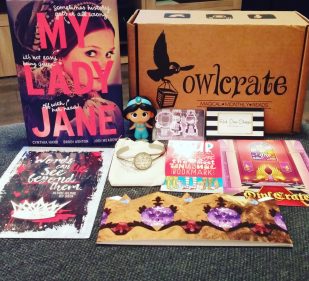 And there was lots of bookish goodness this week! First up, I received my Owl Crate. This month's theme was royalty, and I am so excited that My Lady Jane, by Cynthia Hand, Brodi Ashton, and Jodi Meadows, was the book! I've heard such great things about it, and as I love historical fiction, I've had my eyes on this book for some time. This is definitely going on the summer TBR!
The box also contained some really cute magnetic bookmarks from Craftedvan, a Princess Jasmini mini Funko doll, a Red Queen-inspired print, a Cinder-inspired bracelet, and a cute cardboard crown (which I may or may not be wearing right now).
Next month's theme is good vs. evil, and I'm super intrigued by the hints Owl Crate has been dropping. I love trying to guess which book will be included in each month's box.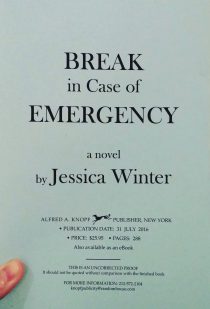 Thank you to Penguin Randomhouse Canada for this ARC of Jessica Winter's Break in Case of Emergency! It sounds like a funny, thought-provoking read about adult female friendships.
And thank you to my friend Jess for copies of: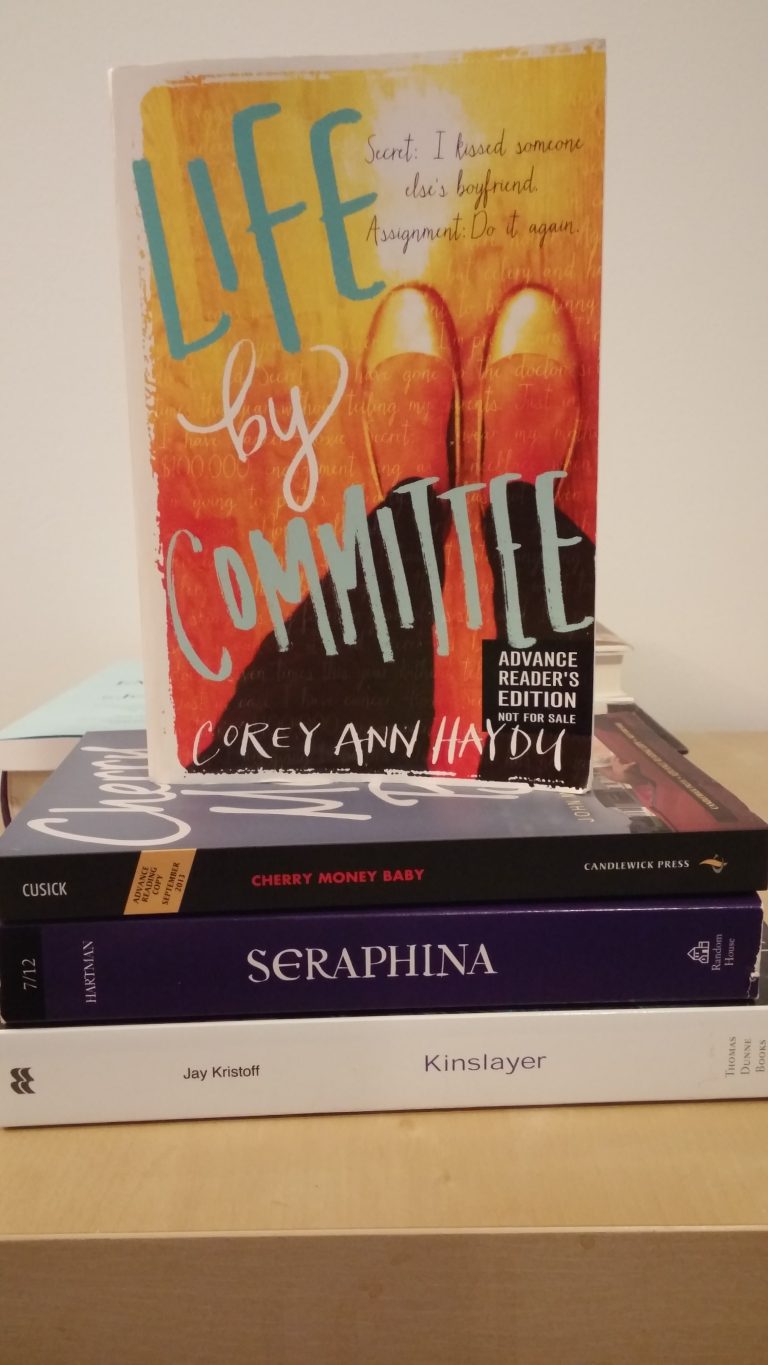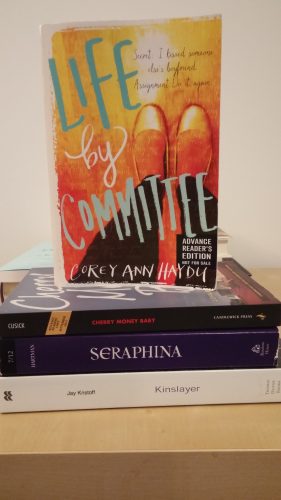 Life by Committee, Corey Ann Haydu;
Cherry Money Baby, John M. Cusick;
Seraphina, Rachel Hartman; and
Kinslayer, Jay Kristoff.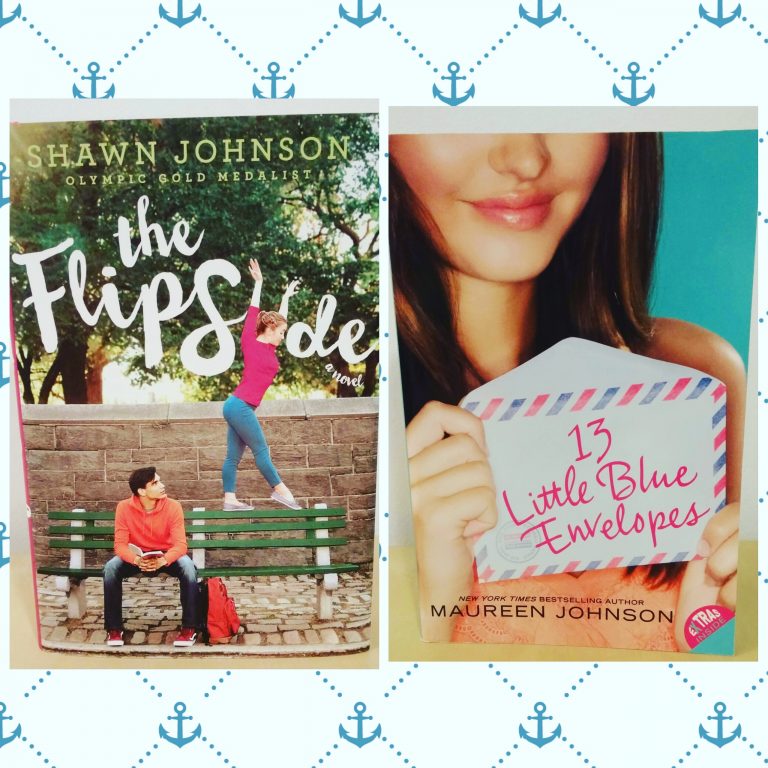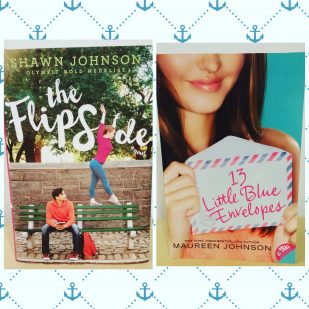 I also purchased two books that felt like great summer reads:
The Flip Side, by gymnast Shawn Johnson (I LOVE gymanstics); and
13 Little Blue Envelopes, by Maureen Johnson (which I've read and loved a few years ago).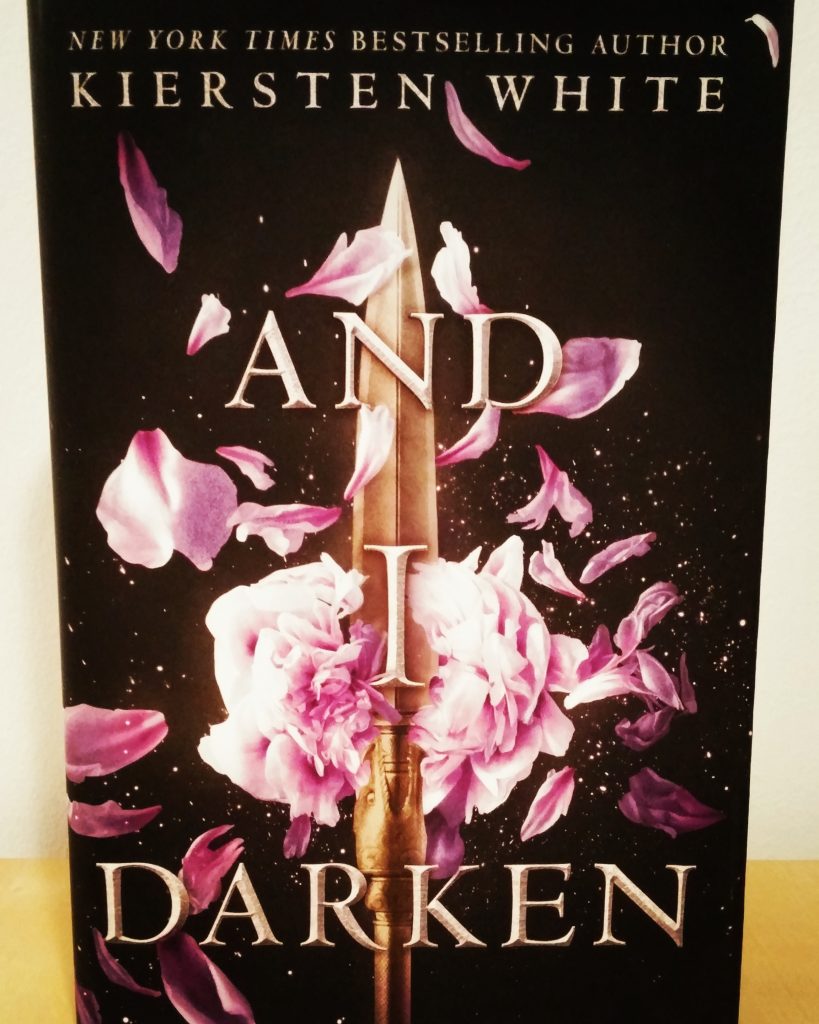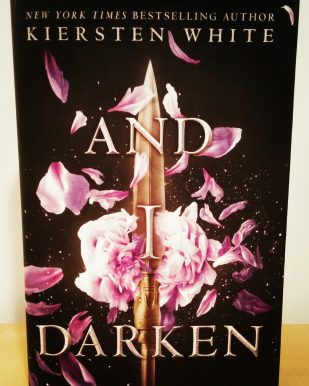 I also purchased a copy of Kiersten White's And I Darken, based on my friend Ciara telling me these four words: female Vlad the Impaler. Sold!
And my friend Kathy gifted me an ARC of Sara Shepard's new book, The Amateurs, from ALA!! I am majorly excited for this!! I love Sara Shepard's books and always get pumped up for anything she has coming out!
I received an e-arc of Kasie West's P.S. I Like You from the publisher, Point, via Edelweiss (thank you!).
I also made a couple of e-book purchases:
Never Missing, Never Found, Amanda Panitch; and
The Perfectionists and The Good Girls, Sara Shepard.
I haven't finished reading anything this week! I'd better get back at it or I'll fall behind on that Goodreads goal again.
Currently, I'm still reading ARCs of The Telling by Alexandra Sirowy, and The Glittering Court by Richelle Mead, and I've also started to read The Flip Side.
On the blog, I posted three reviews this past week – I loved all of these books:
The Merciless II: The Exorcism of Sofia Flores, by Danielle Vega;
All the Missing Girls, by Megan Miranda; and
All the Feels, by Danika Stone.
Coming up this week are my reviews of Beware That Girl, by Teresa Toten, and Even In Paradise, by Chelsey Philpot.
I'm off to enjoy the rest of my long weekend and try to make the most of it by reading as much as I can! Happy Sunday!