June 17 – 23
What a week! The weather has been warm, sunny, cold, rainy…a mixed bag! But it was a good week, book-wise! I came home on Thursday to find the following in the mail: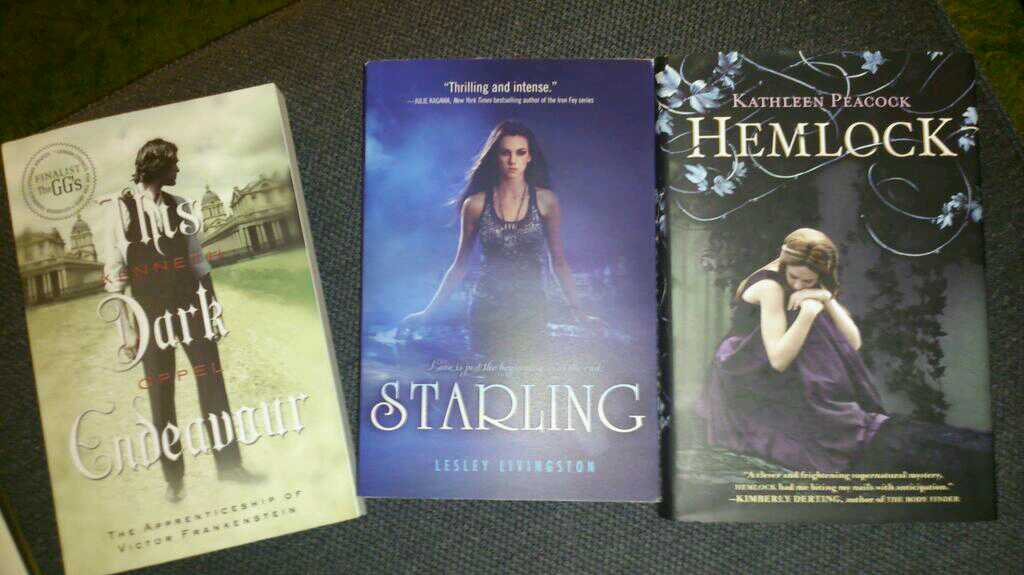 These are some books I won from Armchair BEA (thank you HarperCollins Canada!) I love This Dark Endeavour and I'm so happy to own my own copy now! And I'm really looking forward to reading Starling and Hemlock.
On the blog this week, I posted my reviews of Paper Towns by John Green and Every Day by David Levithan. I also shared my Top Ten Tuesday post on the top books on my summer TBR list, and my Waiting on Wednesday post about Quarantine 2: The Saints.
I finished reading three books this week: Sara Shepard's Pretty Little Liars #13, Crushed; Bethany Griffin's Masque of the Red Death; and Caitlin Moran's How to Be a Woman. Look for those reviews soon!
Currently I'm reading Leigh Bardugo's Siege and Storm, which I borrowed from my BFF. I'm also going to start reading Elizabeth Wein's Code Name Verity, which I borrowed from fellow blogger Jessica of Read My Breath Away.
Coming up this week are my reviews of Mind Games by Kiersten White and Gone (#1) by Michael Grant.
A few exciting things happened this week! On Thursday, some fellow Ottawa bloggers and I attended a book launch for author Amy McCulloch's new book, The Oathbreaker's Shadow. Another book on my summer TBR list!
You can read Amy's blog post about the launch here. I had a great time: enjoyed some dinner with the bloggers beforehand, followed by some yummy frozen yogurt at the launch, courtesy of Spoon Frozen Yogurt Lounge (self serve! major toppings!), and had my copy of the book signed by Amy.
Amy was really friendly, making time to chat with us, and did a reading from the book. It was cool to hear an author read her own work out loud – this was my first book event, so it was a whole new experience! I hope we get more book events in Ottawa this year!
I also downloaded the new Super Luigi U DLC for my New Super Mario Bros. U game on the Wii U. It's 82 all new levels, and you play as Luigi. So far I'm loving it, but it's definitely more difficult than the Mario game. You have a way shorter time limit, which fills me with anxiety, and Luigi definitely controls differently than Mario: he jumps higher and can sort of float, but he doesn't land as precisely. I'm having a lot of fun with it so far!
One of the major things I'm excited about is the sixth Mario Marathon, which began on Friday. I love this and get excited for it each year! A bunch of gamers broadcast themselves playing all of the console Mario games, raising money for Child's Play charity. They play non-stop (hence the 'marathon') and it's a lot of fun to watch, especially as it gets later and later!
And of course I have to mention the Blue Jays! They're on a hot streak, with ten wins in a row, and Kawasaki got a home run in Friday's game! My husband and I were watching on television and we were jumping up and down and high fiving when we saw that ball go over the wall! It was so exciting! I love Kawasaki, but I also love Jose Reyes (who Kawasaki replaced after an injury), and with Reyes due to come back soon, I'm curious to see what the team will decide to do with Kawasaki. I say keep them both, but what do I know?
I'll be spending the rest of my Sunday watching more Mario Marathon, painting my nails, reading, and watching the Jays go for a franchise record-tying eleventh win in a row. Happy Sunday everyone!