Week In Review
June 24 – 30
I'm writing this at what would normally be pretty close to my bedtime, but tomorrow is Canada Day so I'm enjoying a long weekend! An extra long weekend, actually, since I took Tuesday off work as well. 🙂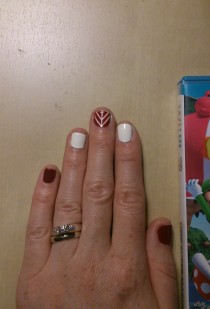 So far I've spent the first part of the weekend getting some chores done and then trying to just relax before the hustle and bustle of tomorrow! I watched some baseball, and took my husband to Spoons, the location of the book launch I wrote about last week.
<— Like my Canada Day nails? I don't wear red nail polish so when I started planning my nails for tomorrow, I realized I would have to go out and buy red nail polish! I ended up getting Essie's A List for the red, paired with Julep's Bunny on my ring and pointer fingers. I used a different white on my middle finger, along with A List and my striping tape (Sally Hansen's White On).
This week, I posted my reviews of Kiersten White's Mind Games, and Michael Grant's Gone (#1 in the series). I also shared my Top Ten Tuesday post, listing my top ten reads of the first half of 2013, and my Waiting on Wednesday post about Sarah Rees Brennan's Untold.
I finished reading Code Name Verity by Elizabeth Wein, and am working on that review (although so far it's pretty much just me saying how much I loved the book).
I'm still reading Leigh Bardugo's Siege and Storm, and started Lindsey Leavitt's Going Vintage. I also just picked up Jennifer E. Smith's This Is What Happy Looks Like from the library, which I'm really looking forward to reading.
Coming up this week are my reviews of The Elite (The Selection #2) by Kiera Cass and R.L. Lafever's Dark Triumph (His Fair Assassin #2).
To my fellow Canadians, HAPPY CANADA DAY! And happy Monday to everyone else. 🙂
Related Posts