Week In Review
July 29 – August 4
Happy long weekend! I have tomorrow off work for the August long weekend and I'm sooo happy about it! I've been doing a lot of reading, t.v. watching, and couch lounging. I did also manage to get outside for a bit. 😉
I hung out with some of my fellow Ottawa bloggers on Friday evening for a barbecue, which was a lot of fun! I really love spending time with people who love books/reading as much as I do.
Earlier in the week, my husband and I saw Man of Steel and Iron Man 3. We both enjoyed Iron Man 3 more. Man of Steel wasn't a bad movie, but as far as which one was more fun to watch, I definitely have to go with Iron Man 3. Maybe I just wasn't in the right mood for Man of Steel? I didn't dislike it, but I didn't love it. It was a bit 'meh', to be honest. Maybe I need to see it again.
I've been catching up on the final season of Angel via Netflix recently. I saw the final episode when it first aired, but I missed a lot of the final season's episodes, since they aired when I lived in residence at university and there was one television to be shared by my entire floor. I now have only the last episode to watch, and man, this show gets the tears flowing! I love this show and its ability to mix humour with its darker tone, but saying goodbye to certain characters has been incredibly difficult.
I also bought the first two seasons of The O.C. on DVD and have been enjoying those! My husband wasn't planning on watching the show with me, but I think he's been sucked in by all the punching and Seth Cohen's humour. Looks like I'll have to get the last two seasons on DVD too!
Kevin and I started watching Fringe yesterday on Netflix and boy is it good! I knew it was a show that I wanted to watch, so I'm happy to be enjoying it so far.
My book club met on Wednesday to discuss Incarnate by Jodi Meadows, and we got to have a Skype chat with Jodi herself! She was so nice and funny and answered all of our questions. It was so cool to get to hear an author talk about her book and that Jodi took the time to speak with our group was just amazing. Now I'm going to have to read Asunder before Infinite comes out in January!
I should have been catching up on my reviews this morning, but I did my nails instead. They're a bit messy, but I like the colour combination. Who knows, maybe I'll redo it all tomorrow. But for now, this is what I have going on: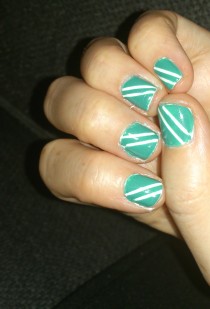 I borrowed two books from my fellow bloggers that I'm very excited to read: Amy Tintera's Reboot, and Aprilynne Pike's Earthbound.
I'm currently reading Wild Awake, by Hilary T. Smith, and Seven Minutes in Heaven, the final book in Sara Shepard's The Lying Game series.
On the blog last week, I posted my final 15 Day Book Blogger Challenge posts, as well as my reviews of Going Vintage and This Is What Happy Looks Like, and my Waiting on Wednesday post for Sarah Alderson's The Sound.
I finished reading three books this week: Lauren Graham's Someday, Someday, Maybe; an e-ARC of Susan Beth Pfeffer's The Shade of the Moon; and an ARC of Jenny Han and Siobhan Vivian's Fire With Fire (the sequel to Burn For Burn). I'll be working on those reviews today and tomorrow!
Coming up this week are my reviews of Siege and Storm, the second in Leigh Bardugo's Grisha series, and Sky on Fire, the sequel to Emmy Laybourne's Monument 14.
I'll be reading, review writing, and watching some more Netflix with my husband for the rest of the long weekend! Hope you're all having a fun weekend too!
Related Posts