April 28 – May 4
It's May! Goodbye April – that month flew by! Bring on birthdays (my friends, my husband, and myself all have May birthdays) and BEA!
I have to confess to being in a bit of a reading slump lately, but not because of the books I've picked. I've enjoyed most of the books I've read lately. No, it's because I've been having trouble sleeping for the past few weeks and find myself so tired during the day and at home after work that I've been unable to focus on anything, including books.
BUT I think I'm back on track. I took a huge nap on Friday evening and then went to bed a couple hours after I woke up, and only woke up once in the night. When I got up on Saturday, I felt rested, which was such a great feeling that I couldn't stop smiling (despite the grey, rainy, dismal weather).
So I think I'll be able to focus again on my books, which is great, because I've got some books lined up that I'm super excited about!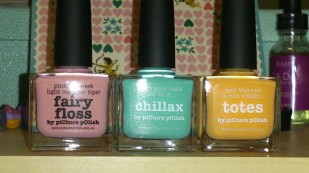 I had some fun nail mail this week! piCture pOlish is one of my absolute favourite nail polish brands: the colours are amazing, they do a lot of awesome collaboration colours with nail bloggers, and the formula and application of their polishes are just perfect. I buy mine via Nail Polish Canada, and I had ordered three bottles that seemed to take forever to arrive, so when they did, it totally made my day!
I ordered Totes and Chillax from the new Urban Shades collection, as well as Fairy Floss, because I've always wanted that pink! I'm wearing Chillax right now and I love it!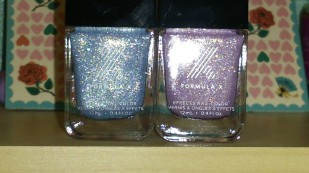 I also picked up two colours from Sephora's Formula X line and can't wait to try them out. I'm a sucker for sparkly nail polish!
On to books!
I went on a major Edelweiss spree this week. There were so many books that I can't wait to read!
I also got Marie Antoinette, Serial Killer by Katie Alender from my friend Kathy and Amy and Roger's Epic Detour by Morgan Matson from the library, plus my pre-order of a finished copy of We Were Liars by E. Lockhart arrived in the mail!
Currently I'm reading Amity by Micol Ostow.
I finished reading two books last week: Plus One by Elizabeth Fama, and the amazing Crown of Midnight by Sarah J. Maas. The Chaol swoons are strong!
On the blog, I posted my reviews of:
Coming up are my reviews of We Were Liars, Since You've Been Gone by Morgan Matson; and Killer Instinct by S.E. Green.
I'm going to spend the rest of the day reading and watching baseball. Happy Sunday!