Week In Review
June 2 – 8
I didn't do a Week in Review post last week, because I was in New York City at Book Expo America. You can read my recap, which includes a list of my book haul.
In addition to my BEA books, I acquired the following over the last couple of weeks:
Just One Night by Gayle Forman (purchased)
Pretty Little Liars: Toxic by Sara Shepard (purchased)
 Arclight and Meridian by Josie McQuein (purchased)
Valentine Bell: The Golden Year by Rowan Maness (Netgalley)
The Half Life of Molly Pierce by Katrina Leno (Edelweiss)
Strange and Ever After by Susan Dennard (Edelweiss)
The Invisible by Amelia Kahaney (Edelweiss)
Top Ten Clues You're Clueless by Liz Czukas (Edelweiss)
The Jewel by Amy Ewing (Edelweiss)
Messenger of Fear by Michael Grant (Edelweiss)
Remember Me by Romily Bernard  (Edelweiss)
No Place to Fall by Jaye Robin Brown (Edelweiss)
A Thousand Pieces of You by Claudia Gray (Edelweiss)
Phew!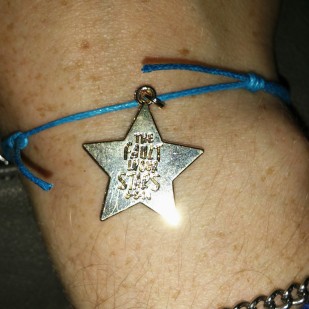 On Thursday, I went with Emilie and Kathy to see The Fault in Our Stars movie. I thought it was a terrific adaptation! Everyone got a poster and a cute bracelet, which I've been wearing ever since.
I have never been in a theatre with so many crying people! I'm not a robot or anything, but I didn't shed any tears during the movie. It was moving and the performances were amazing, especially Ansel Elgort's and Laura Dern's, but I didn't cry. However, it sounded like everyone around me was sobbing, and some people started early in the movie! It was a bit unnerving.
After the movie, we (and other theatres who were airing it that night) were treated to a Q & A with the cast, director, producer, and John Green himself, which was fun. If you loved the book, I hope you enjoy the adaptation just as much!
Recently I finished reading an arc of The Murder Complex by Lindsay Cummings;  The Heiresses by Sara Shepard; and my arc of The Unmarked by Kami Garcia, which I snagged at BEA. It doesn't come out until October, but I loved the first book so much that I couldn't wait to read this one!
Currently, I'm reading The Dark World by Cara Lynn Shultz.
While I was in New York, I posted reviews of Neil Gaiman's The Ocean at the End of the Lane, and Sarah Strohmeyer's The Secrets of Lily Graves (arc).
Last week, I posted my reviews of Amy and Roger's Epic Detour by Morgan Matson, and (Don't You) Forget About Me (arc) by Kate Karyus Quinn.
Coming up are reviews of The Fault in Our Stars (book) by John Green, and The Murder Complex.
Happy Sunday everyone!
Related Posts