February 2 – 8
This was not my best week. I ended up at home sick with a bug for a couple of days, which was frustrating. I hate being sick and whatever I had hit me hard: I was exhausted, had stomach problems, and a headache that would not go away, among other troubles. Fortunately, I think I'm starting to come out of it.
I initially wrote this without remembering that The Walking Dead comes back tonight – I don't know how I could have forgotten about that! I chalk it up to being sick. I am so excited for the show tonight, to see what happens next in the wake of the midseason finale, which made me so sad! I love this show so much.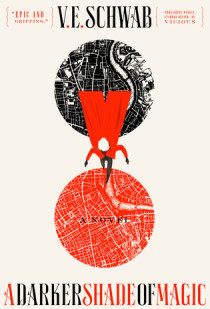 Anyway, on to books. It was an excellent book week because I received an e-galley of Victoria Schwab's A Darker Shade of Magic (thanks Raincoast!!). Her book Vicious is one of my favourite books and when I heard about ADSoM, I was so so so excited. I am definitely going to be buying a finished copy for my bookshelves. I've already started reading and am loving it!
I also received The Creeping by Alexandra Sirowy from Edelweiss (thank you Simon & Schuster!). This sounds twisty and creepy – my kind of book!
I finished a bunch of books last week – look for these reviews in the next couple of weeks:
The Troop by Nick Cutter;
Geek Girl (Geek Girl #1) by Holly Smale;
Vanishing Girls by Lauren Oliver (one of my most anticipated books, and it did not disappoint!); and
Winterkill by Kate A. Boorman.
Currently I'm reading A Darker Shade of Magic. I've just started and can't wait to really settle down and get into it!
On the blog last week, I shared my thoughts on The Girl on the Train by Paula Hawkins, and Red Queen by Victoria Aveyard. Both books were great!
I also shared my Waiting on Wednesday pick: Felicia Day's upcoming You're Never Weird on the Internet – Almost. I am so freaking excited to read this!!
Coming up this week are my reviews of Forget Me, by K.A. Harrington, and The Troop.
I hope I'm really truly over whatever bug I had, because I want to spend today painting my nails and reading, watching AMC's Walking Dead marathon all day, then the new episode tonight! I might also check out the Better Call Saul premiere – anyone else planning to watch?
Happy Sunday!