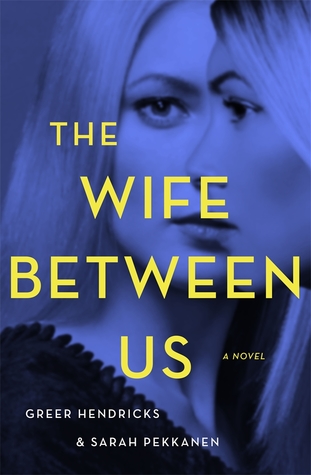 The Wife Between Us
By Greer Hendricks Source
Purchased
Published by
St. Martin's Press
on January 9, 2018
Rating:

When you read this book, you will make many assumptions.
You will assume you are reading about a jealous ex-wife.
You will assume she is obsessed with her replacement – a beautiful, younger woman who is about to marry the man they both love.
You will assume you know the anatomy of this tangled love triangle.
Assume nothing.

Twisted and deliciously chilling, Greer Hendricks and Sarah Pekkanen's The Wife Between Us exposes the secret complexities of an enviable marriage - and the dangerous truths we ignore in the name of love.

Read between the lies.
As I mentioned in my most recent Week in Review post, I had some gift cards from my birthday that I used to purchase a bunch of books. The Wife Between Us was one of them. I chose this book because a lot of book bloggers I follow enjoyed it, and since I'd been in a little reading slump, this psychological thriller seemed like it might be just the thing to get me back in my reading groove.
On one hand, this book was what I wanted: it kept my attention and was intriguing enough that I read it in one weekend. I wanted something that felt like I couldn't put it down because I wanted to know what was going to happen next, and this was definitely that kind of book.
On the other hand though, I didn't love it and wasn't all that surprised by it. There was also a reveal right at the end that I thought was just too much. This was a book that really wanted to be twisty and surprising, but it telegraphed it so much that I felt a bit deflated when I finished.
Overall, this was fine. It wasn't bad, but I didn't think it was great, and I've read thrillers this year that I've enjoyed more (Looker and As Long As We Both Shall Live).