Week In Review
May 27 – June 2
It was hot this week! Hot and humid. My frizzy hair, freckles, and fair skin do not play well with heat and humidity! But I know most people prefer this weather to winter snow and cold, so I'll try not to complain too much. 😉
Husband and I watched a lot of Homeland this week. We've seen the first season and almost half of the second, I believe. That show is awesome! It's intense, unpredictable, suspenseful, and Claire Danes and Damian Lewis are amazing to watch.
I've been playing around with nail polish again, having worn this for most of the week: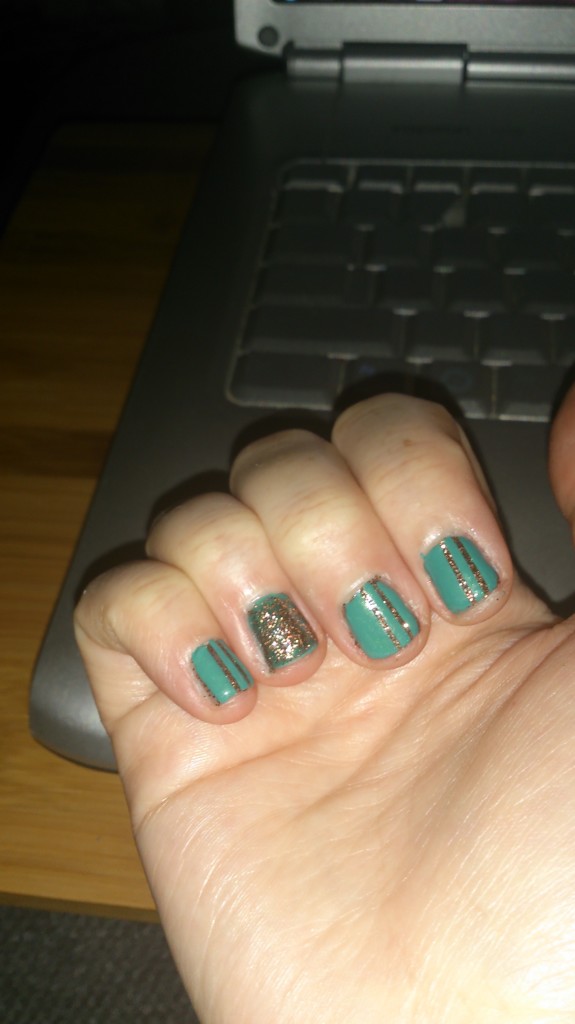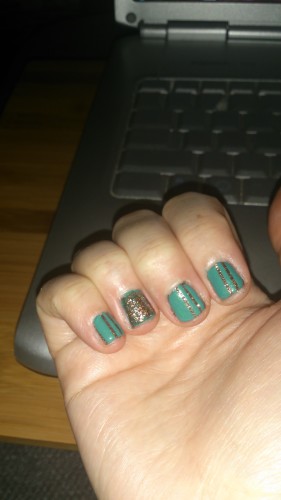 I layered a couple of my Julep polishes and used striping tape. I liked it, but I wish I'd been able to get my stripes to look consistent across all the nails. On some fingers they were further apart than on others. Probably no one but me noticed, but it bothered me all week!
Then this morning I did this: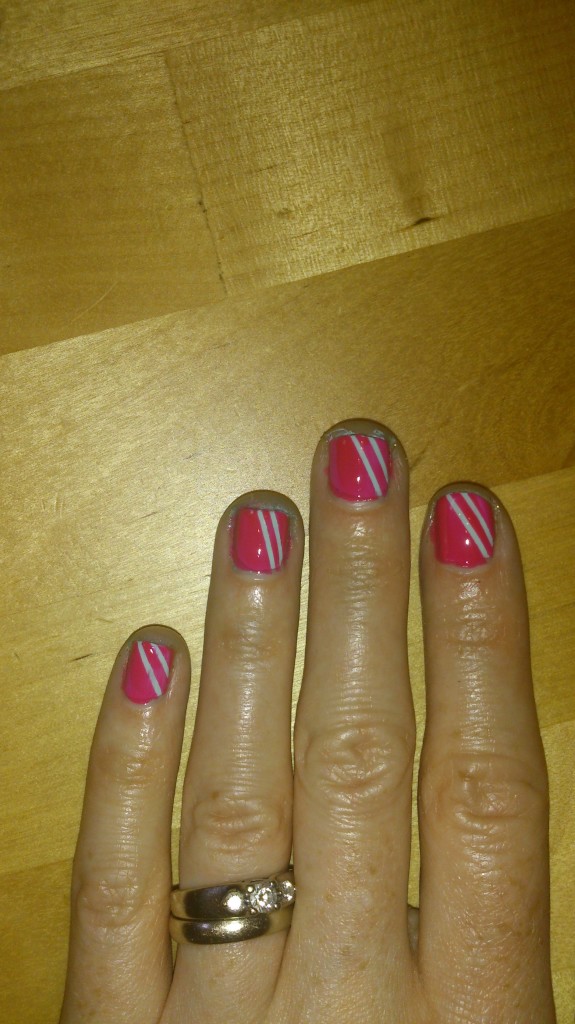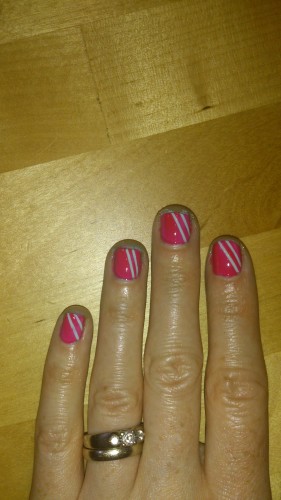 It's one of my new Essie colours, Bottle Service, on top of one of my favourite Essie shades, Mint Candy Apple, with some striping tape. I used a new topcoat (Sally Hansen Insta-Dri Anti-Chip Top Coat) and I love it! I wasn't sure about quick-dry top coats, worrying that I'd get bubbles in the polish, but this dried my nail polish in a minute and left it nice and smooth. I still need to work on my cuticles and applying polish more cleanly, but I really like these colours together.
PS How nice does Essie's Naughty Nautical look?? I have such a weakness for blue and green polishes!
On to books! This week I participated in Armchair BEA, as I was not lucky enough to be attending BEA this year. ABEA was a lot of fun though! It was my first time doing so, and I loved discovering other blogs and even more books for my TBR! I didn't blog each day, but I posted on the following topics:
Blogger Development and Genre Fiction
I also won a Harper Collins Canada book pack as part of an Armchair BEA give away! It contains Kenneth Oppel's This Dark Endeavour (love love love this book and so excited to own it in print!); Lesley Livingston's Starling (I'm so excited to read this one); and Kathleen Peacock's Hemlock (another one I'm excited to read). Thank you Armchair BEA and Harper Collins Canada!
I'm definitely going to participate next year, and hopefully the year after that I'll be able to attend BEA in person!
I posted my reviews of Boundless and The Madness Underneath this week, along with my Waiting on Wednesday post about the final book in the Mara Dyer series.
This week, I finished reading Michael Grant's Gone, the first in the series, and The Elite (the sequel to The Selection). I'll be posting my reviews in a couple of weeks.
I took a quick walk this morning in the rain to return some library books, and now I'm going to curl up on the couch with Netflix and some books for the rest of the day! Happy Sunday everyone!
Related Posts