Week In Review
September 1 – 7
Don't forget to check out my giveaway for an ARC of The Perfectionsts by Sara Shepard!
My husband and I pretty much spent all our waking, non-work time watching the first four seasons of Game of Thrones. We are pretty obsessed now, and desperately waiting for season five! We also watched the first season of Silicon Valley, which was hilarious!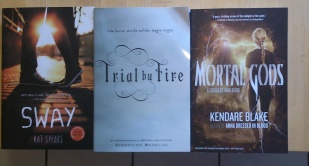 I received some books I'm really excited to read:
Lailah by Nikki Kelly and The Vault of Dreamers by Caragh M. O'Brien (thank you Raincoast Books/MacMillan!);
Mortal Gods (Goddress War #2) by Kendare Blake; Trial by Fire by Josephine Angelini; and Sway by Kat Spears (thank you Raincoast!);
I purchased Heir of Fire (Throne of Glass #3) by Sarah J. Maas and I'm sooooo excited to read it! I also borrowed The Lost Symbol by Dan Brown, in e-book format, from my library.
Currently, I'm readint The Lost Symbol and Blood of My Blood (Jasper Dent #3) by Barry Lyga. I'm really enjoying both!
I only finished reading one book this week: Blackbird by Anna Carey. I DNF'd a book (The Dolls by Kiki Sullivan) 30% of the way in because it just wasn't grabbing me and I was bored and rolling my eyes a lot and I decided it was best to walk away from it and read something else.
It was a busy week on the blog! I posted reviews of:
Tiger Lily by Jodi Lynn Anderson;
Of Monsters and Madness by Jessica Verday;
The Jewel by Amy Ewing;
The Swap by Megan Shull; and
Isla and the Happily Ever After by Stephanie Perkins.
Coming up this week are reviews of three books that I enjoyed:
Jackaby by William Ritter;
Ashes to Ashes (Burn for Burn #3) by Jenny Han and Siobhan Vivian; and
Broken Monsters by Lauren Beukes.
I'm going to sit on the balcony and try to finish reading one of my books today. Happy Sunday and happy reading!
Related Posts