This is an annual survey by Jamie from The Perpetual Page-Turner. I love looking back at my reading stats for the year, as well as the books I read and seeing which ones really stayed with me.
Note: As mentioned in previous years, this is for books I read in 2017, regardless of when they were published. Also, I didn't answer all of the survey's questions. I've deleted the ones I didn't answer (and then didn't change the question numbers) but you can see the full survey on Jamie's blog!
2017 Reading Stats:
Number Of Books You Read:
116 (so far)
Number of Re-Reads:
2 (Harry Potter and the Prisoner of Azkaban; Harry Potter and the Goblet of Fire)
Best in Books:
1. Best Book You Read In 2017?
I had to break this down, because I read so many fantastic books this year!
Best 2017 release: I think The Hate U Give by Angie Thomas was the best 2017 release I read this year.
Best backlist: It was barely backlist when I read it (it came out in the fall of 2015) but Ryan Graudin's Wolf by Wolf is definitely a contender for best backlist I read in 2017. And so is Tana French's Faithful Place – I was obsessed with her Dublin Murder Squad series this year!
2. Book You Were Excited About & Thought You Were Going To Love More But Didn't?
I just finished this, so I haven't written my review yet, but I really was excited about Andy Weir's Artemis. I so enjoyed The Martian and thought the premise of Artemis sounded so great, but the book was a bit of a letdown for me.
 3. Most surprising (in a good way or bad way) book you read?  
Maybe Northanger Abbey by Jane Austen, because I was so surprised at how fun and funny that book was!
 4. Book You "Pushed" The Most People To Read (And They Did)?

I was pushing Tana French's Dublin Murder Squad series on everyone after I read the books, and I gifted Jonny Sun's Everyone's a Aliebn When Ur a Aliebn Too to a few people because I loved it so much.
 5. Best series you started in 2017? Best Sequel of 2017? Best Series Ender of 2017?

Best series I started: This should be no surprise, since I've been talking about it nonstop, but I would say Tana French's Dublin Murder Squad series! I read the first book, In the Woods, in October, and then I tore through the rest. (Technically, I read the most recent book in the series in 2016, but I went back to the beginning and read the series all the way through this fall) I cannot wait for the next book in this series, whenever that comes out.
Best sequel: I was torn between picking Countdown City by Ben H. Winters or A Twist in Time by Julie McElwain, but I think I have to give this to Countdown City. It was a very very good follow-up to The Last Policeman.
Best series ender – YA: Definitely The Dire King by William Ritter! This is the last book in the Jackaby series and I adore that series. I thought the last book did such a fantastic job of tying everything together and I was really emotional at the end of it. I hope I can reread the series.
Best series ender – adult: A Conjuring of Light by Victoria Schwab. She is one of my most favourite authors and I will read anything she writes at this point, and this series is so magical and dark and engrossing.
 6. Favorite new author you discovered in 2017?
Maybe Jason Reynolds. Long Way Down is the first book of his I've read, and it was so fantastic.
7. Best book from a genre you don't typically read/was out of your comfort zone?

I actually read three romance books this year, all by Sarah MacLean. The Rogue Not Taken was probably the best of them.
 8. Most action-packed/thrilling/unputdownable book of the year?

I think I read so many unputdownable books this year, which I love, but it makes it difficult to pick one to single out here! While I loved all of Tana French's books when I read them this year, three of them were more unputdownable than others: In the Woods; Faithful Place; and Broken Harbour. I can't choose just one!
 9. Book You Read In 2017 That You Are Most Likely To Re-Read Next Year?
I am still not much of a re-reader, but I will certainly be returning to Jonny Sun's book!
10. Favorite cover of a book you read in 2017?
This is a very tough choice. Victoria Schwab's covers for her Shades of Magic series have been fantastic and the cover for A Conjuring of Light is sooo good: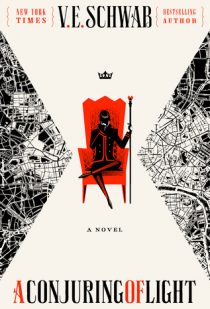 I also fell in love with the covers of some excellent YA books this year!
Maurene Goo's I Believe in a Thing Called Love was a delightful book, and I love the cover: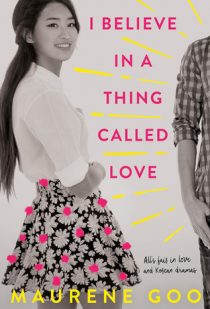 For YA thrillers and horror, Stephanie Perkins' There's Someone Inside Your House definitely has one of my favourite covers of the year. I love the pink and I love that it is kind of dark and creepy: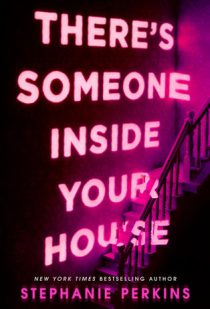 The other YA horror cover I loved this year is from Amy Lukavics' The Ravenous. It's another creepy one!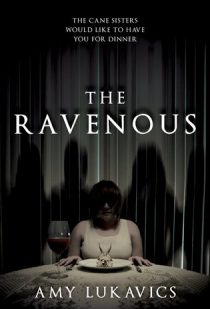 11. Most memorable character of 2017?

The alien in Jonny Sun's Everyone's a Aliebn When Ur a Aliebn Too!
 12. Most beautifully written book read in 2017?
I'm torn between William Ritter's The Dire King – I super love William Ritter's writing – and Victoria Schwab's A Conjuring of Light (I also super love her writing!).
Those two books were standouts for me this year in so many ways: characters, plot, writing, emotional impact.
13. Most Thought-Provoking/ Life-Changing Book of 2017?
I feel like I always struggle to have a good answer for this one. The Power by Naomi Alderman gave me a lot to think about, as did Meg Wolitzer's The Female Persuasion and Kristin Cashore's Jane, Unlimited.  (Reviews for all of those to come!)
 14. Book you can't believe you waited UNTIL 2017 to finally read? 
Northanger Abbey by Jane Austen. Every year I tell myself I want to read more classics, and this year I actually read one!
16. Shortest & Longest Book You Read In 2017?
Shortest: Narwhal: Unicorn of the Sea by Ben Clanton
Longest: Harry Potter and the Goblet of Fire
 17. Book That Shocked You The Most

I'm pretty sure Iain Reid's I'm Thinking of Ending Things shocked me the most. When I got to the end, I sat there with my mouth open and immediately had to seek out others who had read it, to discuss.
And Long Way Down by Jason Reynolds! This was another jaw-dropper.
18. OTP OF THE YEAR (you will go down with this ship!)

(OTP = one true pairing if you aren't familiar)
Lara Jean and Peter K. forever! (Always and Forever, Lara Jean by Jenny Han)
19. Favorite Non-Romantic Relationship Of The Year
Abigail Rook and R.F. Jackaby! (The Dire King, William Ritter)
20. Favorite Book You Read in 2017 From An Author You've Read Previously
Aside from the series books by William Ritter, Tana French, and Victoria Schwab that I've already mentioned, And I Darken by Kiersten White. It was so great and so different from her other books I've read.
21. Best Book You Read In 2017 That You Read Based SOLELY On A Recommendation From Somebody Else/Peer Pressure
The romance novels I read by Sarah MacLean, all based on recommendations (thank you Book Riot Insiders!).
22. Newest fictional crush from a book you read in 2017?
Henry Tilney (Northanger Abbey, Jane Austen).
23. Best 2017 debut you read?
YA: The Hate U Give, Angie Thomas
Adult: What You Don't Know, JoAnn Chaney
24. Best Worldbuilding/Most Vivid Setting You Read This Year?
Artemis by Andy Weir definitely had some fascinating worldbuilding (city on the moon!).
25. Book That Put A Smile On Your Face/Was The Most FUN To Read?
I Believe in a Thing Called Love, by Maurene Goo. I love her books!
26. Book That Made You Cry Or Nearly Cry in 2017?
I think a lot of books made me tear up this year! The first one that comes to mind (that I haven't already used to answer a few questions) is World of Trouble by Ben H. Winters. I wasn't ready for that book to end.
27. Hidden Gem Of The Year?
Archivist Wasp by Nicole Kornher-Stace. This was so unique!
28. Book That Crushed Your Soul?
What Happened by Hillary Rodham Clinton. I wish the election had turned out differently! #StillWithHer
29. Most Unique Book You Read In 2017?
Archivist Wasp!
30. Book That Made You The Most Mad (doesn't necessarily mean you didn't like it)?
I finished reading this over the Christmas holidays and haven't written up my full review yet, but there were parts of The Power by Naomi Alderman that really aggravated me.
Your Blogging/Bookish Life
1. New favorite book blog you discovered in 2017?
I don't know that I've really discovered any book blogs this year. I think I've got my favourites that I follow, but I've actually been culling my email and feed reader subscriptions. A lot of blogs I have been following for years are no longer active, so I finally removed them.
2017 was more of a year of really hunkering down with my favourite bookish blogs and apps!
2. Favorite review that you wrote in 2017?
I like my review of The Dire King. I struggle with writing reviews for series finales, but I think I captured my love for this book and the series overall.
4. Best event that you participated in (author signings, festivals, virtual events, memes, etc.)?
Harper Collins Canada's Frenzy Presents in Toronto, in February (woah that feels like ages ago!). The HCC Frenzy events are always a fun way to spend time with fellow bloggers, learning about Harper's upcoming YA titles.
5. Best moment of bookish/blogging life in 2017?
Going to the Supernatural Convention in Toronto (and meeting Jensen Ackles, Jared Padalecki, Misha Collins, and more)! It's not really related to my reading life, but I've been blogging about my rewatch of the show over the past couple of years, so that counts.
6. Most challenging thing about blogging or your reading life this year?
Just reviewing books. Sometimes I would be so excited to finish a book and then start a new one that I struggled to specifically set aside time to write some reviews.
9. Best bookish discovery (book related sites, book stores, etc.)?
I'm a huge Book Riot fan, and I joined their Book Riot Insiders this year and it's been awesome. I love the Insiders Slack – I've 'met' some great people, learned about some great books, and had some great book chat with fellow book lovers!
10.  Did you complete any reading challenges or goals that you had set for yourself at the beginning of this year?
The main one is my Goodreads Reading Challenge. I always set it at 100 books at the beginning of the year, and if I've really blown past that early enough in the year, I've increased it, but I left it at 100 for 2017 (which I completed).
Beyond that, because I'm such a mood reader, I don't tend to set more specific reading goals for myself, but I've been thinking about whether I'd like to try something different for 2018.
Looking Ahead:
1. One Book You Didn't Get To In 2017 But Will Be Your Number 1 Priority in 2018?
I don't ever seem to stick to this, but I sure would like to try and read Moxie by Jennifer Mathieu and The Queen of the Night by Alexander Chee early in 2018.
2. Book You Are Most Anticipating For 2018 (non-debut)?
I'm really excited for Justina Ireland's Dread Nation, and Morgan Matson's Save the Date!
3. 2018 Debut You Are Most Anticipating?
I am fairly certain that Emma Berquist's Devils Unto Dust is a 2018 debut, and I am super looking forward to it!
 4. Series Ending/A Sequel You Are Most Anticipating in 2018?
VENGEFUL BY V.E. SCHWAB!!!!!!!!!!!! (Sequel to Vicious, one of my favourites)
5. One Thing You Hope To Accomplish Or Do In Your Reading/Blogging Life In 2018?
I really want to try to be more deliberate with what I read. I'm definitely a mood reader, and while I don't think I could stick to a strict TBR, I would like to be able to plan what I read a bit better.
6. A 2018 Release You've Already Read & Recommend To Everyone (if applicable)
I think I've  read two 2018 releases so far, and I enjoyed and would recommend both (reviews to come closer to publication date):
Truly Devious, Maureen Johnson
The Female Persuasion, Meg Wolitzer.
There you have it! A look back at my year in books and reading. I love doing this survey – thank you Jamie for putting this together each year! – and I am already mega excited for all of the books I'm going to read in 2018!