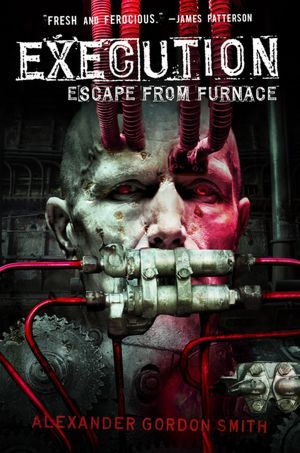 Execution: Escape from Furnace
By Alexander Gordon Smith Series:
Escape from Furnace #5
Source
Library
Published by
Faber and Faber
on March 3, 2011
Rating:

Alex Sawyer has escaped his underground nightmare to discover the whole world has become a prison, and Alfred Furnace is its master. Monsters rule the streets, leaving nothing but murder in their wake. Those who do not die become slaves to Furnace's reign of cruelty. Alex is a monster too. He is the only one who can stop Furnace but in doing so he could destroy everything. Is he the executed or the executioner? Who will die? All Alex knows is that one way or another, it all ends now.
This is the fifth and final book in the Escape from Furnace series, following Lockdown, Solitary, Death Sentence, and Fugitives.
Spoiler alert for this book and the series in general.
This series has always managed to take things in different directions than what I expected, so I went into this final book with absolutely no idea how it would all end.
By the end of the previous book, Alex had become even stronger, thanks to the newest version of the nectar that pumped through his veins: he had managed to escape from Furnace with help from Simon and Zee, and set out to find Alfred Furnace, the man behind it all. Instead, he found and then killed Warden Cross. Now, he is at last going to confront Alfred Furnace.
First of all, I was so happy that this book answered some long-standing questions I had about the nectar, and Alfred Furnace himself. We learn a lot about his life and his mission.
Part of Alex's journey to stop Furnace involved a trip back to his parents' home. This was a really touching part of the story, as Alex learns that his parents tried numerous times to appeal the conviction that sent him to Furnace Penitentiary, and hoped that he forgave them. Of course, his parents were no longer at the house, and he realized that he would probably never see them again. He also found a picture of him as a child, which helped him to retain a part of his humanity and resist falling under Furnace's control.
Not only were Alex and his friends dealing with Furnace and all of his creations (berserkers, rats, blacksuits) that had been unleashed, but the army was after them as well. While it seemed that Panettiere, the army doctor, wanted to help, it turns out that she was more  interested in studying Alex and the other creatures, so that she could learn about the nectar and use it for her own purposes. This put Alex in the position of having to fight against two enemies, and he spends much of this book on the run, heading towards the island where he knows Furnace is waiting for him.
I think Alex found redemption through his actions in the end of this book. He was the only one who could stop Furnace, but do so, he almost became him. It was only by holding onto his humanity – his name, his parents, his friends – that he was able to succeed.
As usual with this series, the author never shies away from killing off characters, and as usual, I was saddened more than once by the deaths that take place. However, the ending was overall optimistic, and I think it fit perfectly with the rest of the series.
I definitely recommend this series for fans of horror and action, and who don't mind some gore! These books are intense and fun!