Week In Review
March 24 – 30
Today is a busy Sunday! I'm going to the Ottawa book blogger meet up (I'm soooo excited! I'll do a separate post on the meet up later this week), and then I'm meeting some friends to see the Divergent movie. It should be a pretty awesome day – now if only this ridiculous snow would stop!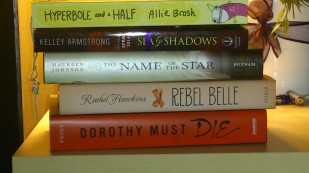 This was a nice book week! We had our book club's one year anniversary, and had a fun party and a Skype chat with Jodi Meadows (we read the last two books in her Incarnate trilogy, Asunder and Infinite, for this month's book club). I won an ARC of Sea of Shadows by Kelley Armstrong, and of course since I can't leave a bookstore without more books (we meet at Chapters), I also ended up leaving with Allie Brosh's Hyperbole and a Half, and Maureen Johnson's The Name of the Star (which I've read and loved, but didn't have my own copy).
My pre-orders of Rebel Belle by Rachel Hawkins and Dorothy Must Die by Danielle Paige showed up in the mail box. I can't wait to read Rebel Belle, and I borrowed a fellow blogger's ARC of Dorothy Must Die (review coming soon) and loved it, so I'm very happy to have a finished copy on my bookshelf.
Via Edelweiss, I also have e-ARCS of Kiki Sullivan's The Dolls, Feral by Holly Schindler, and In a Handful of Dust by Mindy McGinnis.
I finished reading two books this week: Great by Sara Benincasa, and Deadline by Mira Grant, the sequel to the first book in her Newsflesh series, Feed (which I LOVED).
Currently I'm reading the final book in the Newsflesh series, Blackout (hoping to finish it today!), and Hyperbole and a Half.
On the blog, I posted my reviews of:
Love Letters to the Dead by Ava Dellaira
Sekret by Lindsay Smith
Dear Killer by Katherine Ewell
Me Since You by Laura Wiess
Going Rogue by Robin Benway
Coming up this week are my reviews of The Crane Wife by Patrick Ness, Dorothy Must Die, and The Here and Now by Ann Brashares.
Happy Sunday!!
Related Posts