This is an annual survey by Jamie from The Perpetual Page-Turner. I love looking back at my reading and blogging for the year!
Note: As mentioned in previous years, this is for books I read in 2016, regardless of when they were published. Also, I didn't answer all of the survey's questions. I've deleted the ones I didn't answer (and then didn't change the question numbers) but you can see the full survey on Jamie's blog!
2016 Reading Stats
Number Of Books You Read:
Goodreads says I read 106 books this year (so far), but it's actually 108: I re-read a book that I've read before and couldn't figure out how to get that to count towards my Goodreads goal, and I read another book that had a very limited print run and isn't on Goodreads (Instrumentals by Roddy Woomble – a collection of song lyrics and art and photographs).
Number of Re-Reads:
Three! I reread the first two books in the Harry Potter series, after finally watching all the movies, and after meeting her at a library event and fangirling, I re-read Vicious by Victoria Schwab.
Genre You Read The Most From:
The same as always – a mix of supernatural/paranormal and fantasy. Lots of mysteries this year too.
BEST IN BOOKS
1. Best Book You Read In 2016?
Hmmmm. I always struggle to pick just one 'best' book I've read in a year! I decided to look at my five-star reads for the year and try to determine which of those was, in my opinion, the best book I read in 2016. The choices were:
Crooked Kingdom (Six of Crows #2), Leigh Bardugo;
Lumberjanes Vol. 4 (graphic novel), Noelle Stevenson, Shannon Watters, Grace Ellis, Brooke Allen, Maarta Laiho, and Aubrey Aiese;
Mostly Void, Partially Stars, Jeffrey Cranor and Joseph Fink;
The Unexpected Everything, Morgan Matson;
The Raven King (Raven Cycle #4), Maggie Stiefvater;
Jane Steele, Lyndsay Faye;
Notorious RBG: The Life and Times of Ruth Bader Ginsburg, Irin Carmon and Shana Knizhnik;
A Gathering of Shadows (Shades of Magic #2), Victoria Schwab;
Front Lines, Michael Grant.
This was really tough, because I loved all of those books, but I think the best overall book that I read this year – in terms of story, writing, the emotional impact it had on me – had to be The Raven King by Maggie Stiefvater.
2. Book You Were Excited About & Thought You Were Going To Love More But Didn't?
Heartless by Marissa Meyer. I really wanted to love it and I felt like everyone I knew who was reading it loved it, but I was kind of meh about it. I liked it but felt like I was missing something, given how much everyone else seemed to totally love it.
 3. Most surprising (in a good way or bad way) book you read?  
Hmmm maybe Girls on Fire by Robin Wasserman? I think I was surprised by how dark it was, and that there was a bit of a mystery to the story, and I quite liked it!
 4. Book You "Pushed" The Most People To Read (And They Did)?

I feel like I didn't do too much book pushing this year. Nothing really comes to mind but I know I did make my younger sister read a lot of Victoria Schwab's books, as well as the Lumberjanes graphic novels!
 5. Best series you started in 2016? Best Sequel of 2016? Best Series Ender of 2016?

Best series I started: The Falconer, Elizabeth May
Best sequel: Crooked Kingdom! This is kind of cheating since it's a sequel but also a series ender, since it's a duology.
Best series ender: I'm going to say The Raven King again!
 6. Favorite new author you discovered in 2016?
Dawn Kurtagich! Her book, The Creeper Man, was so good and creepy and awesome! I have an older ARC of her previous book and I need to read it!
7. Best book from a genre you don't typically read/was out of your comfort zone?

Love, Chloe by Alessandra Torre. New adult is not usually my thing, but I did like this book – and found it more fun to read than the other NA I started reading this year (Erin Watt's The Royals series).
 8. Most action-packed/thrilling/unputdownable book of the year?

Maybe Rebel of the Sands, by Alwyn Hamilton.
 9. Book You Read In 2016 That You Are Most Likely To Re-Read Next Year?
I could see myself re-reading The Raven Cycle series, including The Raven King.
10. Favourite cover of a book you read in 2016?
This is a tie! I thought the cover of Emily Henry's The Love that Split the World was so gorgeous: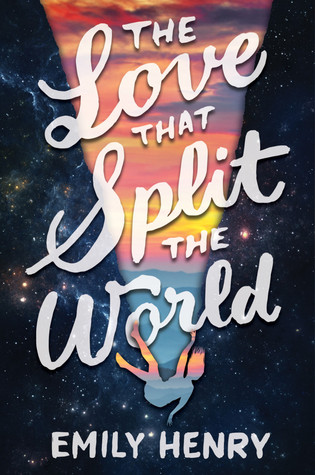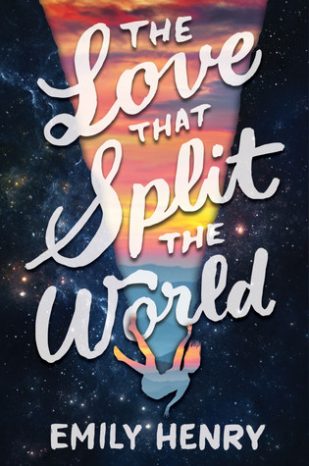 But I also love the cover for The Creeper Man by Dawn Kurtagich because it's so creepy and is a perfect fit for the story: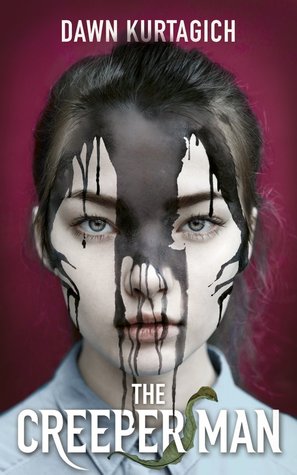 11. Most memorable character of 2016?

Alex Craft, from Mindy McGinnis's The Female of the Species!
 12. Most beautifully written book read in 2016?
I don't want to keep saying The Raven King, but I just really love Maggie Stiefvater's writing. I would say that Crooked Kingdom by Leigh Bardugo and anything I read this year by Victoria Schwab are close behind, though.
13. Most Thought-Provoking/ Life-Changing Book of 2016?
I wouldn't say I read anything life-changing this year, but After I Do, by Taylor Jenkins Reid, gave me a lot to think about.
 14. Book you can't believe you waited UNTIL 2016 to finally read? 
The Falconer by Elizabeth May – this was such a fun book to read and I'm really looking forward to the rest of the series!
 15. Favorite Passage/Quote From A Book You Read In 2016?
I never have an answer for this! I never write down or mark quotes when I read.
16.Shortest & Longest Book You Read In 2016?
Shortest: The New Ghost, Robert Hunter – 24 pages
Longest: Illuminae, Amie Kaufman and Jay Kristoff – 600 pages
 17. Book That Shocked You The Most (Because of a plot twist, character death, left you hanging with your mouth wide open, etc.)
I would say Perfect Days, by Raphael Montes!
18. OTP OF THE YEAR (you will go down with this ship!)

Nina and Matthias, Crooked Kingdom!!
19. Favorite Non-Romantic Relationship Of The Year
I loved the friendships in Morgan Matson's The Unexpected Everything, and when I read The Ghostly Echoes by William Ritter (Jackaby #3) I was reminded how much I love the non-romantic relationship between Jackaby and Abigail Rook.
20. Favorite Book You Read in 2016 From An Author You've Read Previously
I'm trying not to name the same books for each question, so I'll say The Sun Is Also a Star, by Nicola Yoon. This was such a great book!
21. Best Book You Read In 2016 That You Read Based SOLELY On A Recommendation From Somebody Else/Peer Pressure
Paper Princess by Erin Watt perhaps? I don't think I read much based solely on someone's recommendation or peer pressure, but I do know that lots of my bookish friends really enjoy this series so I decided to check it out.
22. Newest fictional crush from a book you read in 2016?
Ummm I don't know that I really have an answer for this. Maybe Jackaby? Is that a weird answer? Even though I read the third book in the series this year (Ghostly Echoes), I think getting more of his backstory than we've had in the first two books in the series made him a much more interesting character.
23. Best 2016 debut you read?
I think A Murder in Time, by Julie McElwain, is a 2016 debut? I loved this book.
24. Best Worldbuilding/Most Vivid Setting You Read This Year?
Crooked Kingdom. Leigh Bardugo is so great at worldbuilding! Ketterdam felt like a real place while I was reading.
25. Book That Put A Smile On Your Face/Was The Most FUN To Read?
Tie: Mostly Void, Partially Stars and Lauren Graham's Talking As Fast As I Can.
26. Book That Made You Cry Or Nearly Cry in 2016?
I think I cried a lot while reading this year! But Crooked Kingdom and The Raven King had moments that made me lose it.
27. Hidden Gem Of The Year?
Peter Brown's The Wild Robot. I don't usually read middle grade but I picked this up one day and I fell in love with this story.
28. Book That Crushed Your Soul?
Maybe Fates and Furies, by Lauren Groff, because I wanted to love it and had such high expectations, but I really didn't care for it in the end as much as I wanted to. It was also my pick for one of my book clubs and none of us loved it – and that crushed my soul, haha.
29. Most Unique Book You Read In 2016?
I really liked the format of Lauren Oliver's Replica, and of course Illuminae was such a unique, fun format.
30. Book That Made You The Most Mad (doesn't necessarily mean you didn't like it)?
Definitely Perfect Days!! And The Female of the Species (what a great book!).
YOUR BLOGGING/BOOKISH LIFE
1. New favorite book blog you discovered in 2016?
It's not actually a blog, but the Litsy app finally became available for Android phones, and I've really loved it! I haven't really found any new-to-me book blogs this year.
3. Best discussion/non-review post you had on your blog?
I have had a lot of fun slowly working on my Project SPN Rewatch! I started it in 2015 but I've been continuing to work on it and write posts this year.
4. Best event that you participated in (author signings, festivals, virtual events, memes, etc.)?
Attending a Teen Author event at my library! I went with my sister and some of my fellow Ottawa book bloggers, and not only did I get to meet Victoria Schwab and get my books signed, but I heard her (and other awesome authors, including Amy Alward and Lesley Livingston) speak on some panels.
5. Best moment of bookish/blogging life in 2016?
Definitely meeting Victoria Schwab!
6. Most challenging thing about blogging or your reading life this year?
Just making the time to read books and write reviews this year. It has been more of a challenge for me these last couple of years than it used to be.
10.  Did you complete any reading challenges or goals that you had set for yourself at the beginning of this year?
I exceeded my Goodreads goal of 100 books, which always makes me happy, and I think I did a decent job of reading books, including older ARCs, from my bookshelves rather than focusing on new books and ARCs.
LOOKING AHEAD
1. One Book You Didn't Get To In 2016 But Will Be Your Number 1 Priority in 2017?
Three Dark Crowns by Kendare Blake! I love her books and can't believe I haven't read this yet!
2. Book You Are Most Anticipating For 2017 (non-debut)?
Too many! Just a few: I Believe In a Thing Called Love by Maurene Goo; Always and Forever, Lara Jean by Jenny Han; The Gentleman's Guide to Vice and Virtue by Mackenzi Lee; The Valiant, Lesley Livingston; Dear Reader by Mary O'Connell; and Final Girls by Riley Sager.
3. 2017 Debut You Are Most Anticipating?
When Dimple Met Rishi, by Sandhya Menon.
 4. Series Ending/A Sequel You Are Most Anticipating in 2017?
The untitled next book in the Jackaby series! I'm not even sure that this will be coming out in 2017, but I can't wait to read it. And Victoria Schwab's A Conjuring of Light (the final book in her Shades of Magic trilogy).
5. One Thing You Hope To Accomplish Or Do In Your Reading/Blogging Life In 2017?
Keep making progress at reading older ARCs and books that have been sitting on my bookshelves for so long, and buying fewer books!
6. A 2017 Release You've Already Read & Recommend To Everyone
Queens of Geek by Jen Wilde! It comes out in March 2017 and it's so great!!